The PS5 launched this week in the UK, Europe and Rest of the World, but with any big launch, it didn't go off without a hitch. Unfortunately, while the PS5 is a great system, there are plenty of bugs and issues that are causing players issues.
The US, Canada, Mexico, Japan and a few other countries got a console a week earlier (on 12th November 2020), but even after this head start and a new firmware update, the PS5 still has a number of issues. We take a look at some of the known bugs with the system and possible fixes.
We will continue to review the issues and update the article as new information or fixes become available.
Game Crashes
The PS5 system software is still unstable so it won't be a surprise if your game crashes every now and again. While it can be annoying, the ultra fast SSD means you can jump right back in within a few second.
Unfortunately, there isn't a fix for this as it could be game related or system related. However, you can help Sony and the Developers of the game find and fix the issue by submitting system reports. The PS5 should automatically ask you to submit a report when a game crashes.
Random System Shutdown or Reboots
One of the more serious issues is the entire PS5 crashing and then shutting down or restarting (error CE-108262-9). This may happen randomly in a game, causing the system to shutdown. It then takes a few minutes before you are able to switch on the system again, which then leads to the hard drive checking for errors.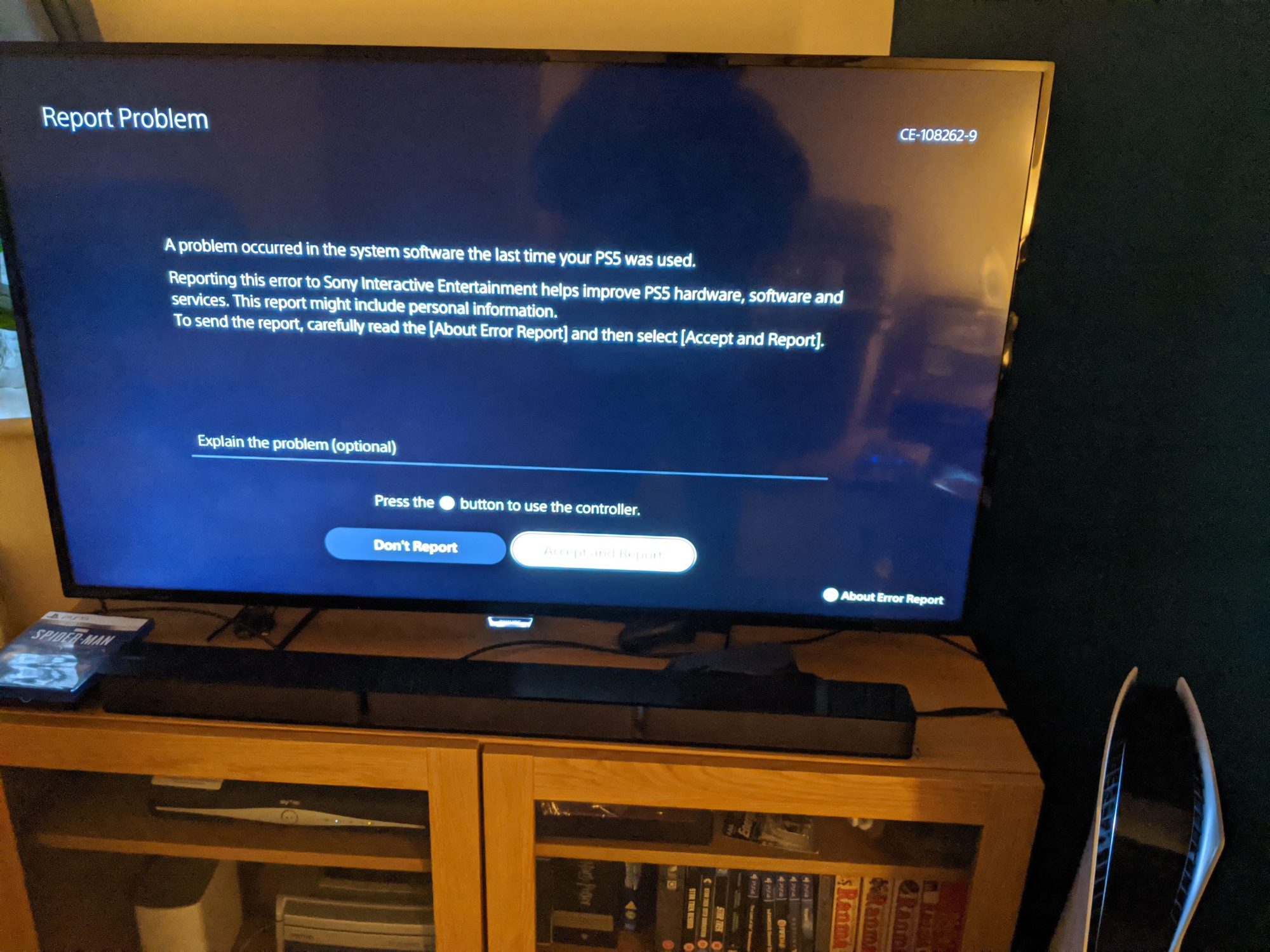 Once again, there isn't a fix for this, and it may be software related or even hardware. Users who have spoken to Sony Support suggest that this issue is related to the GPU, which may or may not be fixable via a firmware update.
Once the system reboots and finishes checking for errors, the PS5 may prompt to report the issue to Sony. Submitted a report may help Sony find a fix for this issue quicker. If this error keeps occuring, you should contact Sony for help as your console may be faulty.
According to Insomniac Games, there is a workaround for Marvel's Spider-Man Miles Morales by setting the game to Performance Mode on the PS5 (via Game Presets) and within the game. Insomniac are aware of the issue and will hopefully have a fix soon.
Front USB Port Not Charging in Rest Mode
There seems to be a issue with the front USB port, which means it does not charge the DualSense controller in Rest Mode, even if the USB power saving setting are set to "3 Hours" or "Always". We are unsure whether this is by design (which would be odd) or a but with the system.
Fix: Until it's patched, you can use the rear USB ports to change the DualSense controller, which do work in Rest Mode. If these do not work for you either (which is also an issue for some users), see if you are able to charge the controller using a different device or mains plug.
Also, make sure the USB Ports are set to supply power during rest mode. This can be configured to "Always" or '3 Hours" as shown below. Using the latter will mean less power wastage during Rest Mode.
Update: Sony has released PS5 Firmware v20.02-02.26.00, which fixes the front ports so they correctly work in Rest Mode.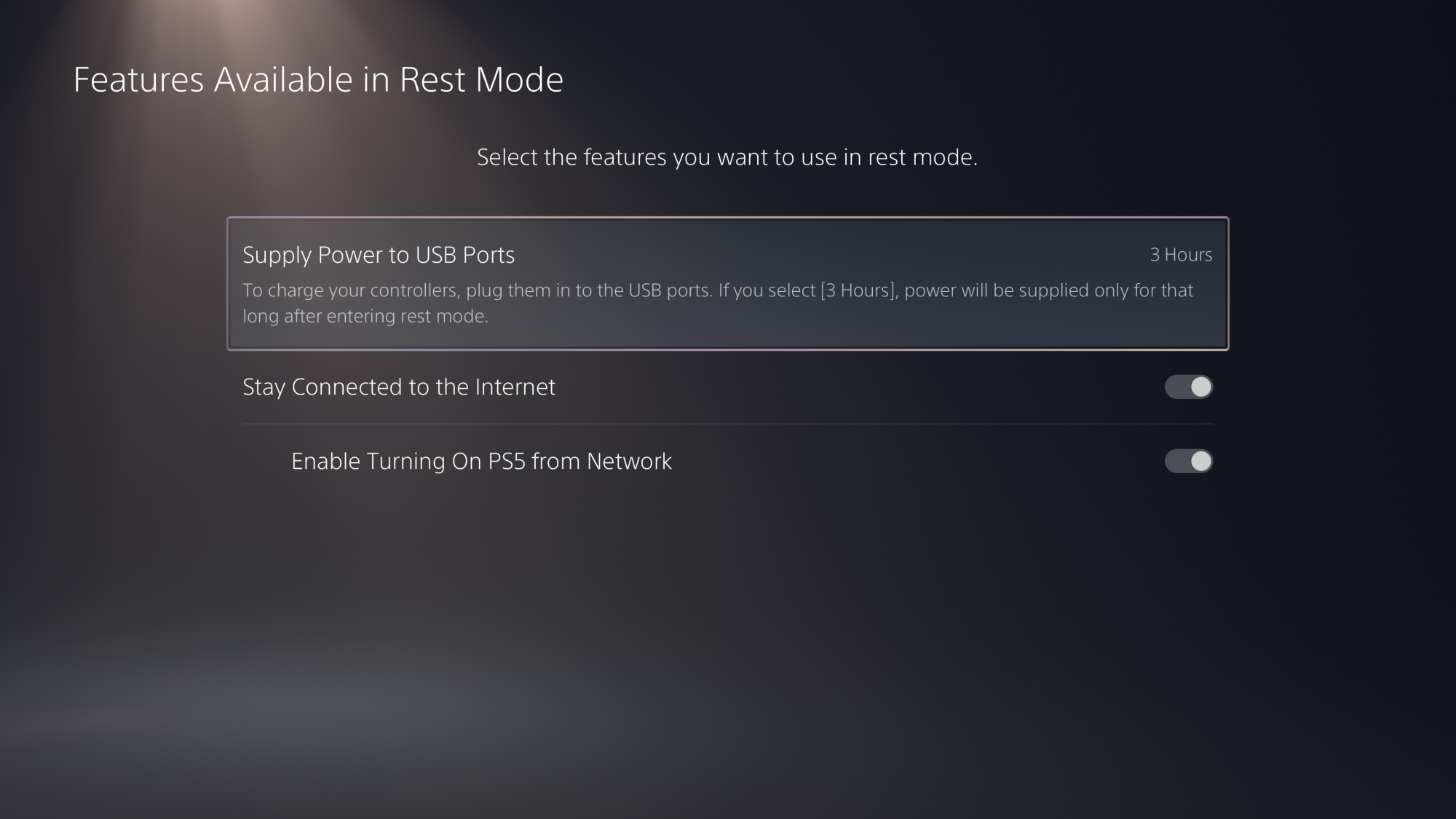 Games Deleting Themselves When Ejecting Disc
In the PS5 with Blu-ray disc drive, games sometimes are deleting themselves when the disc is ejected. While this hasn't been happening to everyone, it is annoying as your saved data can also be deleted.
Fix: After inserting a game disc, do not press the "Copy" button. Instead, wait a minute or two for the PS5 to read the disc and start the copying process automatically. Once the game has been copied, eject the disc to make sure it isn't deleted again.
Update: Sony has released PS5 Firmware v20.02-02.26.00, which fixes this issue with games automatically deleting themselves.
4K Not Working with PS5
If you have a 4K TV, the PS5 sometimes doesn't detect this and downscales the resolution to Full HD 1080p. This could be due to a number of reasons, including use of incorrect HDMI cable or even using the wrong HDMI port.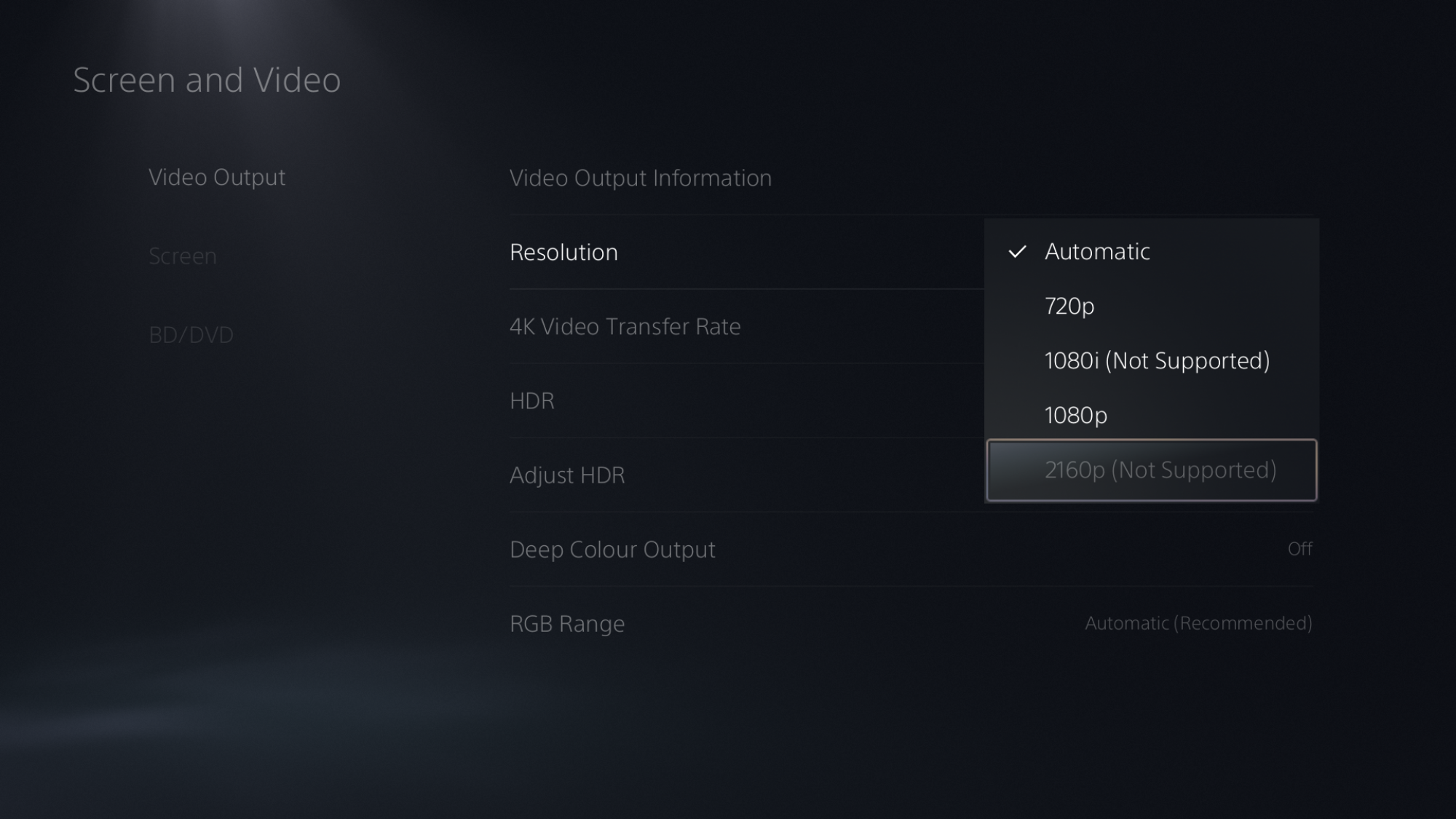 Fix: First, make sure you are using the HDMI cable that came with the PS5. This cable is designed to work with TVs that support 8K so will have no problems with using 4K.
Second, check you are using the correct HDMI port on your TV. If you have multiple ports, only certain ports may support 4K signals. Try with HDMI 1 port and work you way through them to find the one that works, or check your TV manual to easily find the best port. If your PS5 is set to automatic resolution, it should automatically switch to 4K when available.
Lastly, try rebooting your TV and PS5 to see if it helps reset the signal. Make sure it's all connected up before restarting. Hopefully following the above steps will mean 4K starts working on your PS4 TV (as shown below).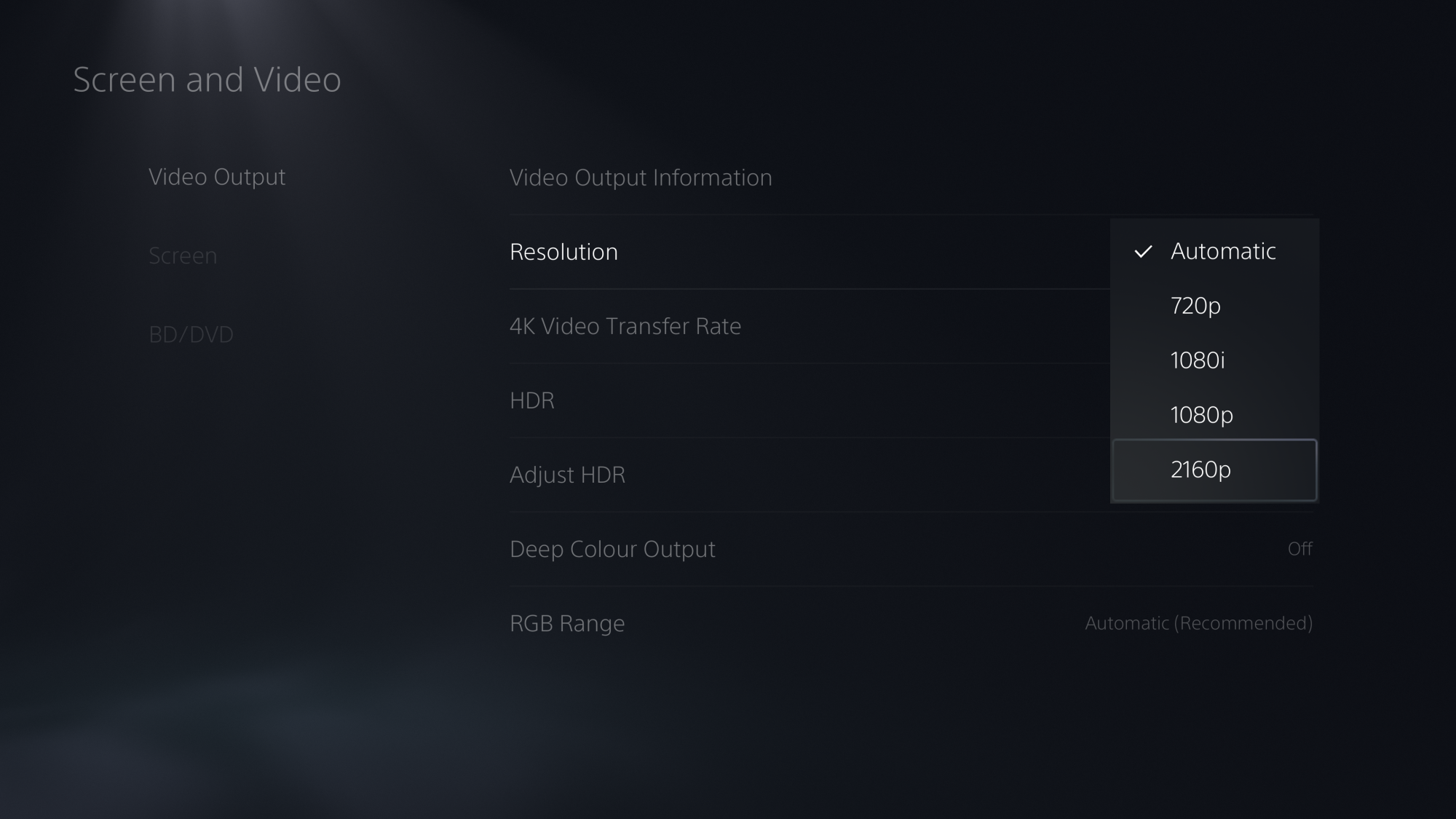 PS5 Game Upgrades Not Working
Many gamers are having issues with upgrading their PS4 games to PS5 versions (where a PS5 upgrade is available). This seems to be most prevalent with Assassin's Creed Valhalla and Watch Dogs Legion in the UK / Europe, with the PS5 not showing the option to download the PS5 version of the game.
Fix: Apparently, creating a Turkish PSN account and using that to download the PS5 version of the above two games works. This appears to be an issue with the UK / European version of the game.
PS5 Making Weird Noises
Some PS5 consoles have been reported to be making weird and loud noises, which don't seem normal. Of the noises reported, "coil whine" seems to be the most reported issue. Coil whine is the noise produced by electronic components vibrating, such as the fan.
Some of the noises are much worse than others, as experienced by Frank from Supercell. However, Frank was able to fix the issue himself, but by voiding the warranty on his console.
Fix: There isn't an official fix for this at the moment.
Games Stuck in Download Queue
Some users have been experiencing a bug where games get stuck in the download queue and never finish downloading. The issue isn't just limited to games, but can affect the media apps too.
Fix: A factory reset can help fix the issue, but that obviously means the PS5 is completely reset and you would need to set it up again. The other solution is to use the PS5 Recovery Mode to Rebuild the Database.
The PS5 Recovery Mode can be accessed by following the instruction below:
Turn off your console by pressing the power button. The power indicator will blink for a few moments before turning off.
Once the system is off, press and hold the power button again. Release it after you hear the second beep — one beep will sound when you first press, and another seven seconds later.
Connect the controller with the USB cable and press the PS button on the controller.
Update: Sony has released PS5 Firmware v20.02-02.25.00, which issues with games stuck in the download queue. But you may still need to repair the database before the issue will be completely fixed.