Voyage is relaxing and beautiful game from Indie publisher Ratalaika Games and Swedish developer Venturous. Voyage is a cinematic adventure game capturing the essence of shared exploration, and can be enjoyed as a single-player or cooperatively.
The game features beautiful hand-painted environments, and relaxing piano music to enjoy as you find a way home together. The game is also unique in that there is no narrative or words – just sit back and listen to the music, composed by Calum Bowen.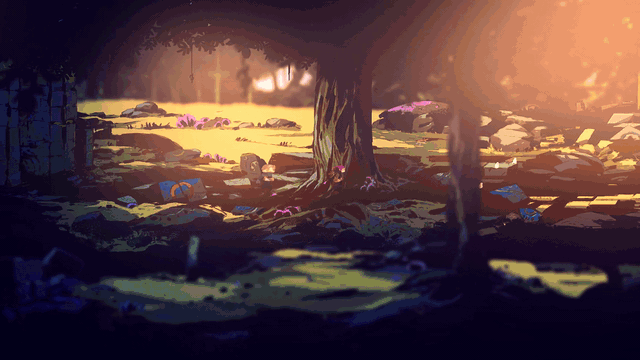 As mentioned, you can play Voyage as a single player or cooperatively. In the single-player mode, you can control one of the two protagonists, while the other is controlled by AI. But you can switch anytime between the two characters using
.
The controls for the game are simple, making use of the D-Pad or Analogue stick and the face buttons. You can use

to interact with objects, such as pulling or pushing things, pressing switches / buttons, and to even hug the second player (there's a trophy for doing this).
The challenges you face as you travel across the nine different levels aren't particularly difficult, but if you get stuck, you can use

to reveal objects which you can interact with. You can also use

to tell the AI player to follow or stop.
Voyage has 14 trophies to unlock, broken down into 2 Silver

, 11 Gold

, and a Platinum

trophy. The trophies are easy to unlock, requiring to complete the game from start to finish, but this will take you less than 2 hours to complete. All but one trophy will unlock as you play the game. Only the "Give me a hug" trophy requires a special interaction to unlock, but this can be achieved by going over to the other player and pressing

to hug.
On the PlayStation Store, you get both the PS4 and PS5 versions of the game for the same price, and as the trophy lists are separate, you can stack the Platinum trophies and get two for the price of one.
We had an enjoyable few hours playing this non-violent game, and enjoying the wordless story to the end. If you are looking for a unique game with beautiful visuals and relaxing music, but not too challenging, this game is worth a try. The game is available now on the PS4 and PS5 as a cross-buy title for £11.99 / $14.99 / €14.99 via the PlayStation Store.