Royal Frontier is the latest game from Indie publisher Ratalaika Games, in collaboration with Finland developer Woblyware. The game is a 2D turn-based strategy with roguelike elements, where each run is randomly generated. We've had a chance to play the game ahead of its release on 18th March 2022.
You are tasked with escorting a caravan of Settlers across the continent, taking 45 days to complete. Taking each day at a time, you must choose the right path to get as far as possible. Along the way, you will encounter enemies, which you must fight in turn-based combat, visit villages where you can rest, find shops or encounter unknown areas.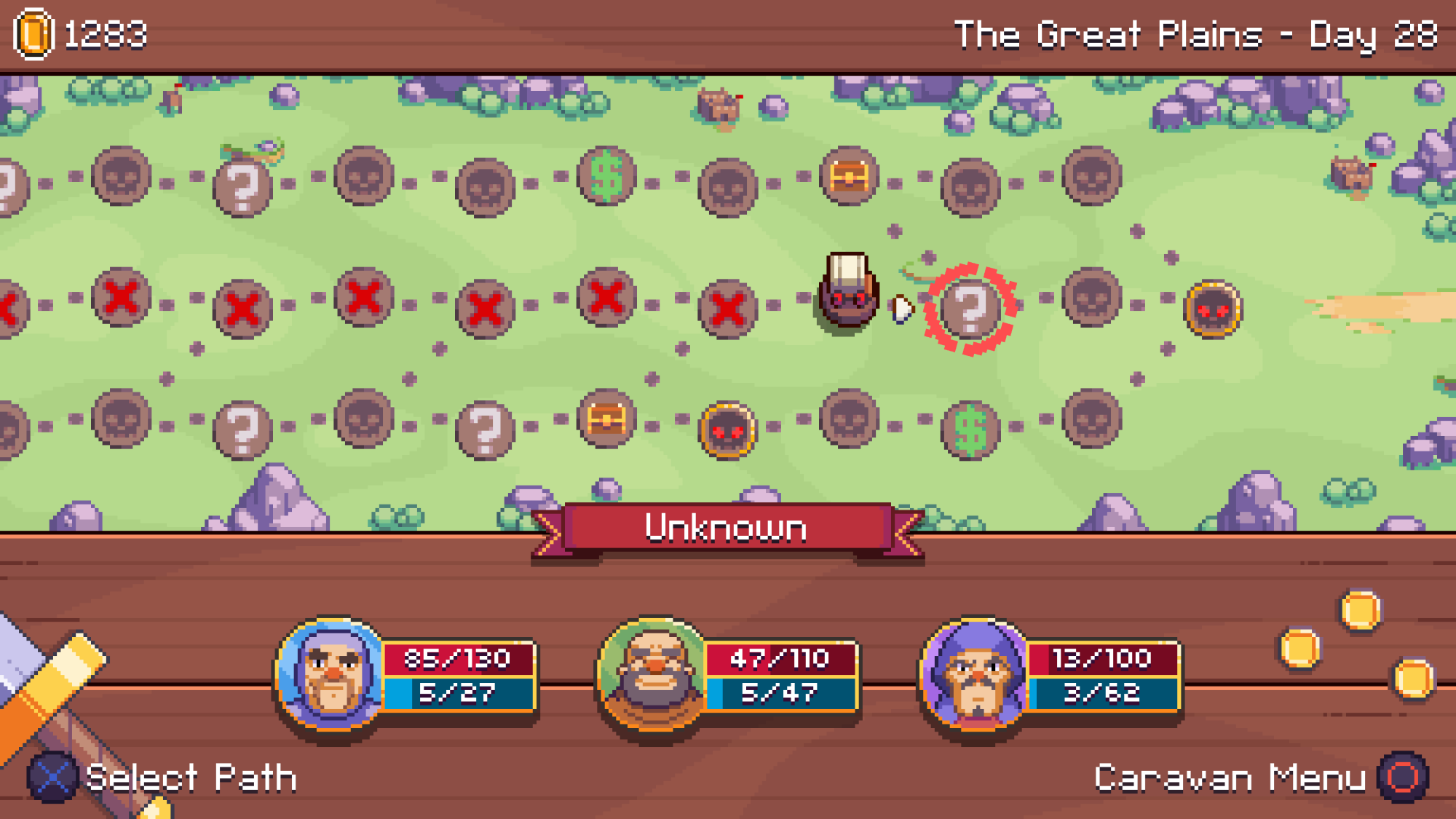 The aim of the game is to get as far as possible without dying. If you do die along the way, your final score will let you unlock new resources to use in the next run. Unfortunately, your XP, weapons and inventory are reset on each run. Each stage has 15 days, culminating in a final boss before you can access the next area (there are a total of 3 areas).
You start by selecting three characters to join you in the journey, each with their own weapon and special abilities. There are 6 characters in total, but the other three must be unlocked by completing specific requirements, for example, defeating the King Redbeard boss.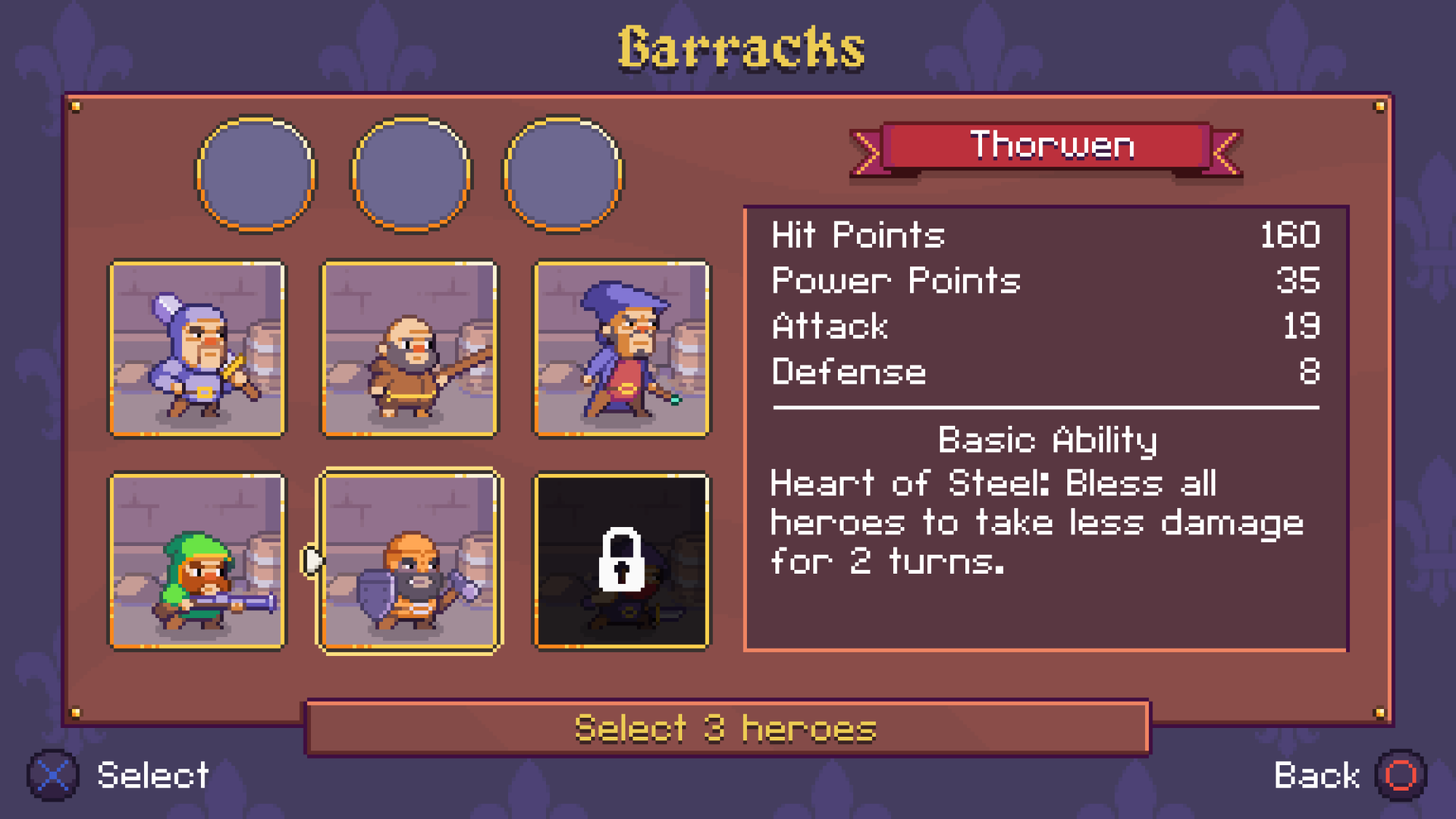 After the character selection, you can then choose 3 Blessings to help you on the way. These Blessings are buffs that could make all the difference in your run. These include increasing your Attack or Defence, giving you 10 scrolls to start with (items that can be used in battle), and more. After each run, your final score is used to unlock new Blessings – up to 48 to choose from.
Along your journey, you can choose with path to take (there are 3 paths in total, but cross over at certain points). The aim should be using the path of least resistance – so finding the one without additional boss battles are usually the most efficient. As each run is randomly generated, it may take you a few tries to make decent progress. After a few hours of playing, the farthest we got was 28 days: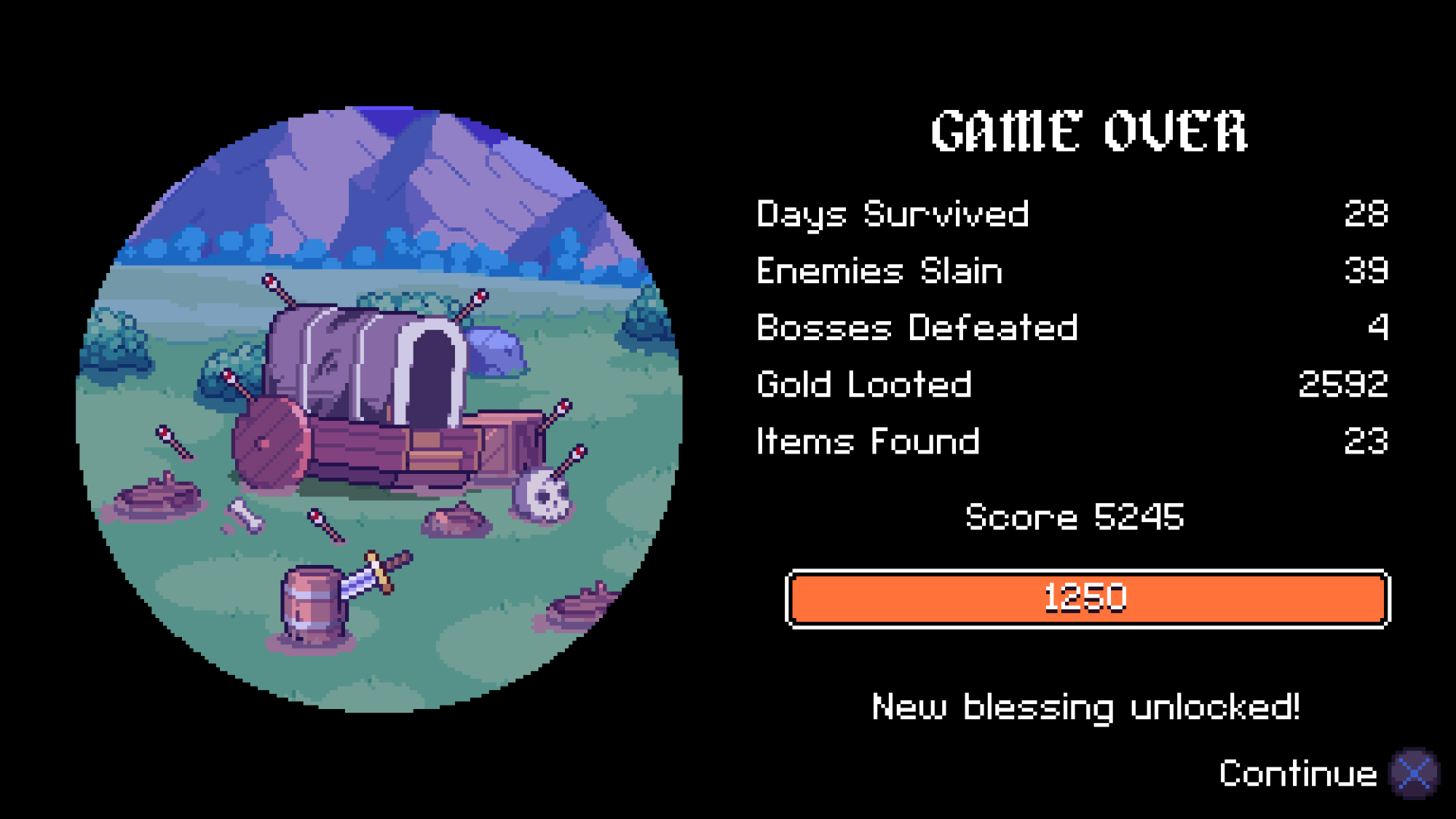 The random element and increasing difficult as you progress provides a good challenge to players. It will likely take you several hours to get to the end, and that's providing you get enough points to unlock the best Blessings.
The turn based combat is pretty simple – you can choose between attack, ability or inventory. When you attack, pressing the X button again at the right time (when the character flashes white), lets you attack twice, but the second hit is less powerful.
Each character starts with a unique special ability, which consumes Power Points, so you need to ration how you use them. More abilities are unlocked as you earn XP and level up. Choosing characters with the right abilities could make a difference in your run – especially the Heal ability, which will literally be a life saver. Finally, the Inventory will let you use an item you've picked up along the way – this can include scrolls that give you temporary buffs, weapons like bombs, and potions to help you restore Hit Points and Power Points.
Like all Ratalaika games, Royal Frontier includes trophies to unlock to provide you with another incentive to do well. There are 13 trophies in total, made up of 1 Silver

, 11 Gold

and 1 Platinum

. It's possible to achieve all the trophies in a single run within 30 minutes, and you won't need to even complete the first stage. You will need to complete at least 10 days and defeat 20 enemies in a single run, as well as defeat one optional boss – but this should all be achievable before day 15 (depending on your luck).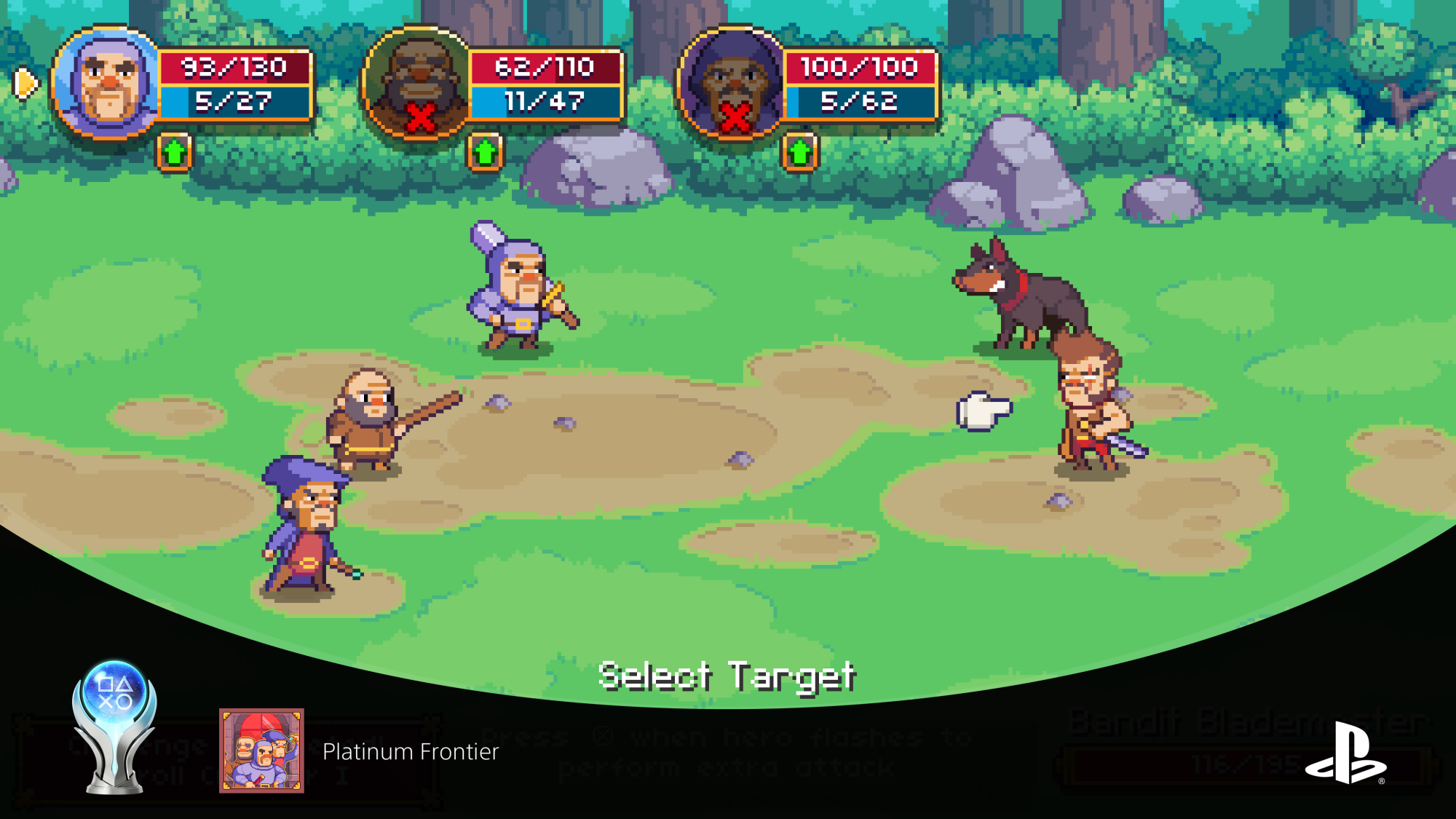 Royal Frontier will be releasing on the PS4 and PS5 (among other platforms) on 18th March 2022. You'll get both the PS4 and PS5 versions of the game with your purchase, which means two Platinum trophies for the price of one.
Royal Frontier Trophy List
Platinum Frontier (Platinum)
Unlock all the other trophies.
Survivor I (Gold)
Survive for 5 days.
Survivor II (Gold)
Survive for 10 days.
Monster Hunter I (Gold)
Defeat 1 optional boss.
Hoarder I (Gold)
Find 5 consumable items in one run.
Slayer I (Gold)
Defeat 10 enemies in one run.
Slayer II (Gold)
Defeat 20 enemies in one run.
Weapon Master I (Gold)
Discover 3 weapons in one run.
Heavy Hitter I (Gold)
Deal 50 damage with a basic attack in one hit.
Heavy Hitter II (Gold)
Deal 100 damage with a basic attack in one hit.
Scroll Crusher I (Silver)
Use 5 scrolls in one run.
Big Numbers I (Gold)
Deal 100 damage with a special ability in one hit.
Gold Digger I (Gold)
Loot 1000 gold in one run.