A GAME store in Guildford this morning tweeted about a possible PS5 announcement expected tomorrow. The tweet has since been deleted but indicated that "updated" were expected on the console, which presumably includes the prices of the two models and opening of pre-orders.
Obviously, the information has not been confirmed by Sony, but it does make sense. Tomorrow, after all, marks the 25th anniversary of the launch of first PlayStation in North America, which release on 9th September 1995.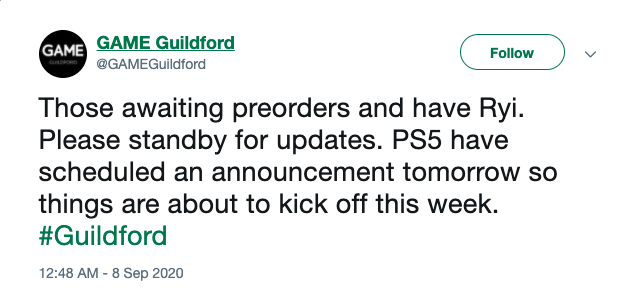 The deleted tweet (screenshot above) indicated that information on pre-orders may be imminent from Sony. There have been several related rumours over the last week indicating a similar announcement.
And if that wasn't enough, Microsoft also officially revealed the Xbox Series S console this morning, with a $299 / €299 / £249 price point and releasing alongside the Xbox Series X in November. The Series S will be 60% smaller than the Series X with no disc drive, smaller hard drive capacity at 512GB, and a lower resolution of 1440p.
The Series S price point is very good, but will Sony be able to compete with the PS5 Digital Edition?