As you may already know, Gran Turismo is coming to the PSP on October 1st when the PSPgo launches officially. For the first time, you can take your favorite racing game with you on the go with an unprecedented 800+ car roster from the world's top manufacturers and 35 tracks. If you're interested in an incredible value and exclusive downloads, be sure to check out the new Limited Edition Gran Turismo PSP Entertainment Pack.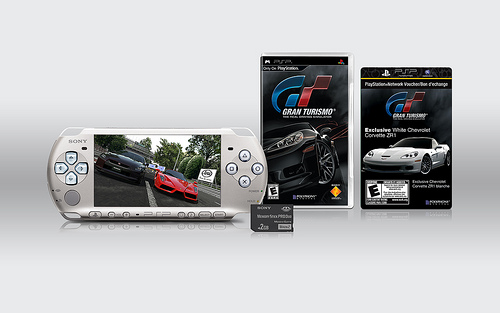 Available at participating retailers on October 20 for $199.99 / £149, the entertainment pack will include:
Mystic Silver PSP-3000 system
Gran Turismo PSP game on UMD
PlayStation Network downloadable voucher for a white Chevrolet Corvette ZR1, a color not available in the game and is exclusive to this entertainment pack
2GB Memory Stick PRO Duo
PlayStation Network downloadable movie voucher – title TBD
Sony MusicPass voucher good for 10 downloadable songs – available to U.S. residents only. Choose from hundreds of thousands of your favorite artists from Sony Music Entertainment.
The stand-alone Gran Turismo game will be available in digital and UMD formats on October 1.