Sony's Q3 2020 financial results, covering the three month ending 31st December 2020, has revealed that 4.5 million PS5s were sold last year. The PS5 console launched in mid-November and in the space of 7 weeks, sold over 4.5 million units worldwide.
The financial report also states that the PS5 is currently selling at a loss, due to manufacturing costs being higher than the selling price. But despite this, Sony has made a 40% increase in year-on-year sales. In the same period, the PS4 sold 1.4 million units.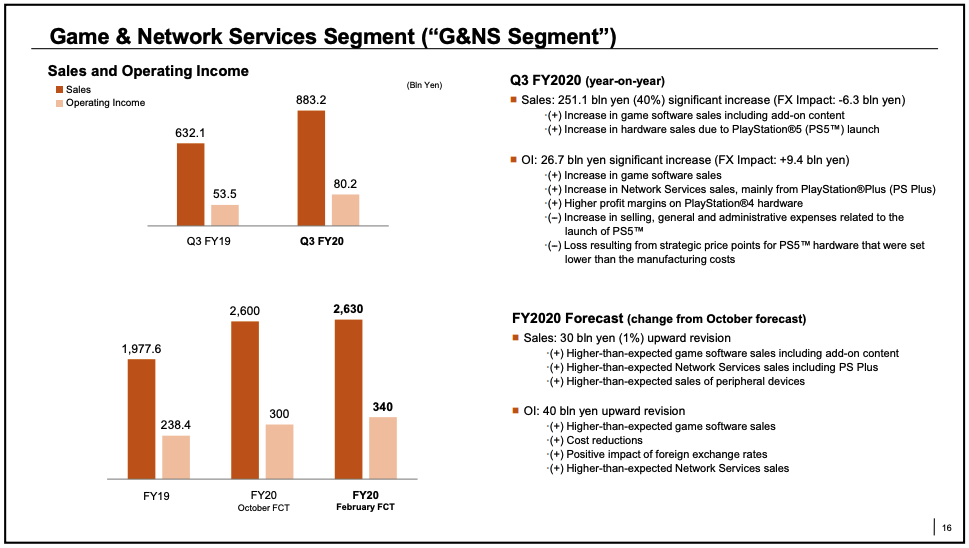 Software sales were also up massively, with over 103.7 million games sold, of which 18.4 million units were first-party titles. The digital-to-physical game ratio was lower than previous months, at 53% of games being digital downloads – this is down from 74% in Q1 and 59% in Q2.

The number of PlayStation Plus subscribers also increased by 1.5 million subscribers in Q3 2020, to reach 47.4 million total subscribers. The PlayStation Network now has over 114 monthly active users too.

You can see the related financial documents and presentation from Sony here.
The PS5 will continue to sell well in 2021 providing that Sony can ship enough consoles to meet demand. The first few shipments for 2021 have sold out in minutes, and scalpers continue to be an issue, but a sale is a sale. But the financial results do show that PS4 sales are slowing down, especially over the holiday period.