In an unprecedented move, Sony has removed Cyberpunk 2077 from the PlayStation Store and will be offering full refunds to customers who purchased a digital copy of the game. The game has been removed from the store "until further notice."
The game can no longer be found on the PlayStation Store and a new page has been setup when gamers can request refunds. This is effectively a digital recall of the game. It's unclear if those who've purchased a physical copy will be able to get a refund, especially since many retailers are currently refusing such requests.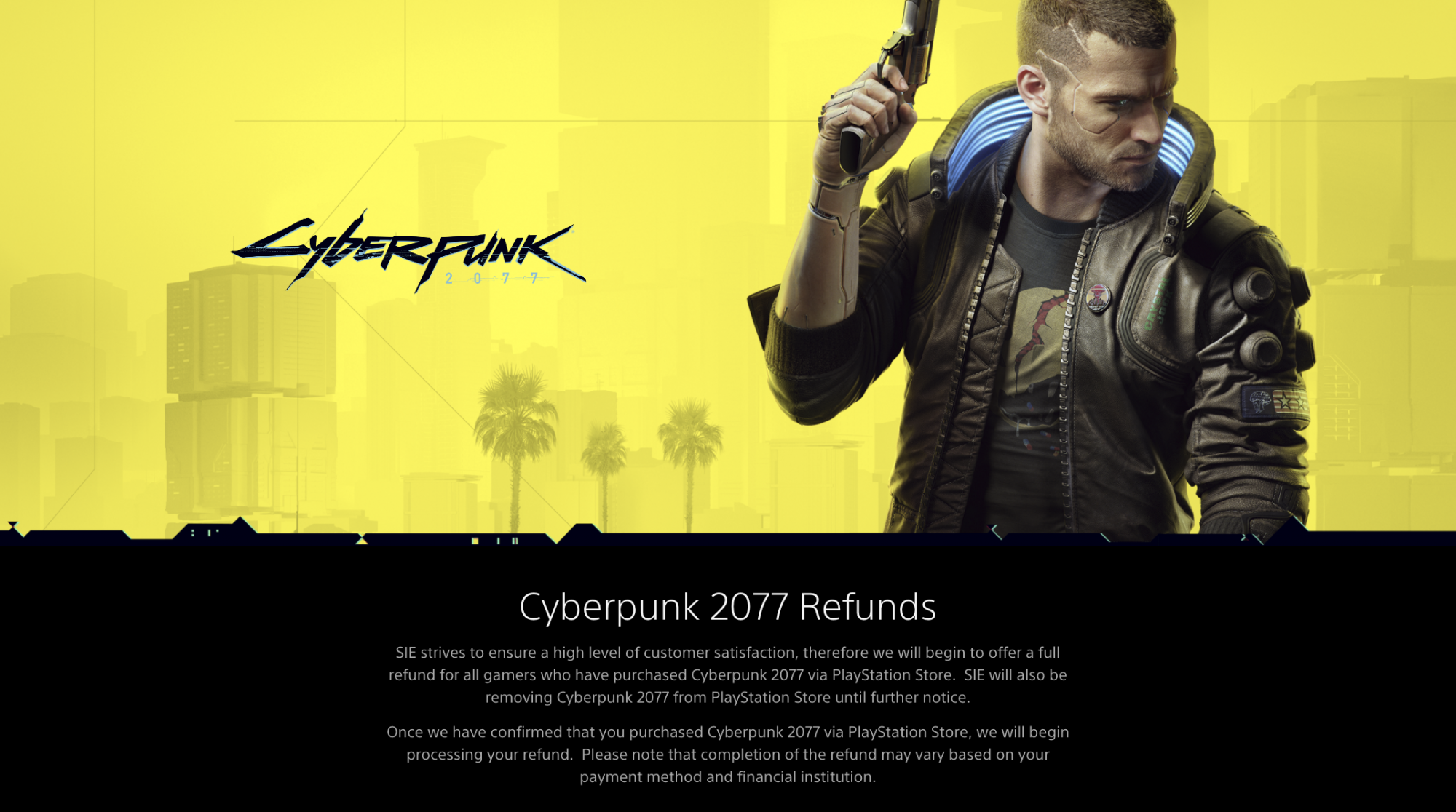 A statement from Sony reads:
SIE strives to ensure a high level of customer satisfaction, therefore we will begin to offer a full refund for all gamers who have purchased Cyberpunk 2077 via PlayStation Store. SIE will also be removing Cyberpunk 2077 from PlayStation Store until further notice.

Once we have confirmed that you purchased Cyberpunk 2077 via PlayStation Store, we will begin processing your refund. Please note that completion of the refund may vary based on your payment method and financial institution.
The move comes following the launch of the game on PS4 with sub-par performance, and a significant gap in performance with the PC version. To add to this, CD Projekt Red (CDPR) did not show any footage of the console version before launch and reviews of the game were based on the PC version, effectively duping consumers.
It's a shame that it's come to this, especially with the developers spending many years working on the game to get it to this point. But the fact is that the console version should have been delayed until it was ready. Despite multiple delays to the game over the last year, the game still wasn't fully ready for consoles.
Update: Microsoft has followed suit and are also offering full refunds for digital purchases of Cyberpunk 2077. The company posted the following statement on twitter:
Cyberpunk 2077: To ensure that every player can get the experience they expect on Xbox, we will be expanding our existing refund policy to offer full refunds to anyone who purchased Cyberpunk 2077 digitally from the Microsoft Store, until further notice.

While we know the developers at CD PROJEKT RED have worked hard to ship Cyberpunk 2077 in extremely challenging circumstances, we also realize that some players have been unhappy with the current experience on older consoles.

To date, we have granted refunds to the vast majority of customers who have requested one. To request an Xbox refund for Cyberpunk 2077, please follow the steps listed on our Xbox refund page here: https://msft.it/6010pXEHj