Despite going 'gold' only a few weeks ago, Cyberpunk 2077 has been delayed yet again, CD Projekt Red has announced. In the game's third (and hopefully final delay), the game is being pushed back by 21 days into a December release.
The delay to the game this time around is related to challenges around testing the game on the various platforms the game will be releasing on, including PS4, Xbox One, PC and Stadia. but also the next-gen versions on PS5 and Xbox Series X | S (for backwards compatibility), all while working from home.
The game's new release date is 10th December 2020, but let's not hold our breath this time. The way things are going with this game, it will now be a surprise if the game does actually releases on 10th December 2020.
CD Projekt Red also address the fact that the game went gold in early October, citing that although the game was complete, the team didn't stop working on it. Apparently there were "many improvements" to be made, which would be released in a "Day 0 patch."
Basically, the game wasn't actually finished a few weeks ago. Who really likes a day 0 patch that will probably be a few GB in size and makes the physical disc obsolete as soon as the base game is installed?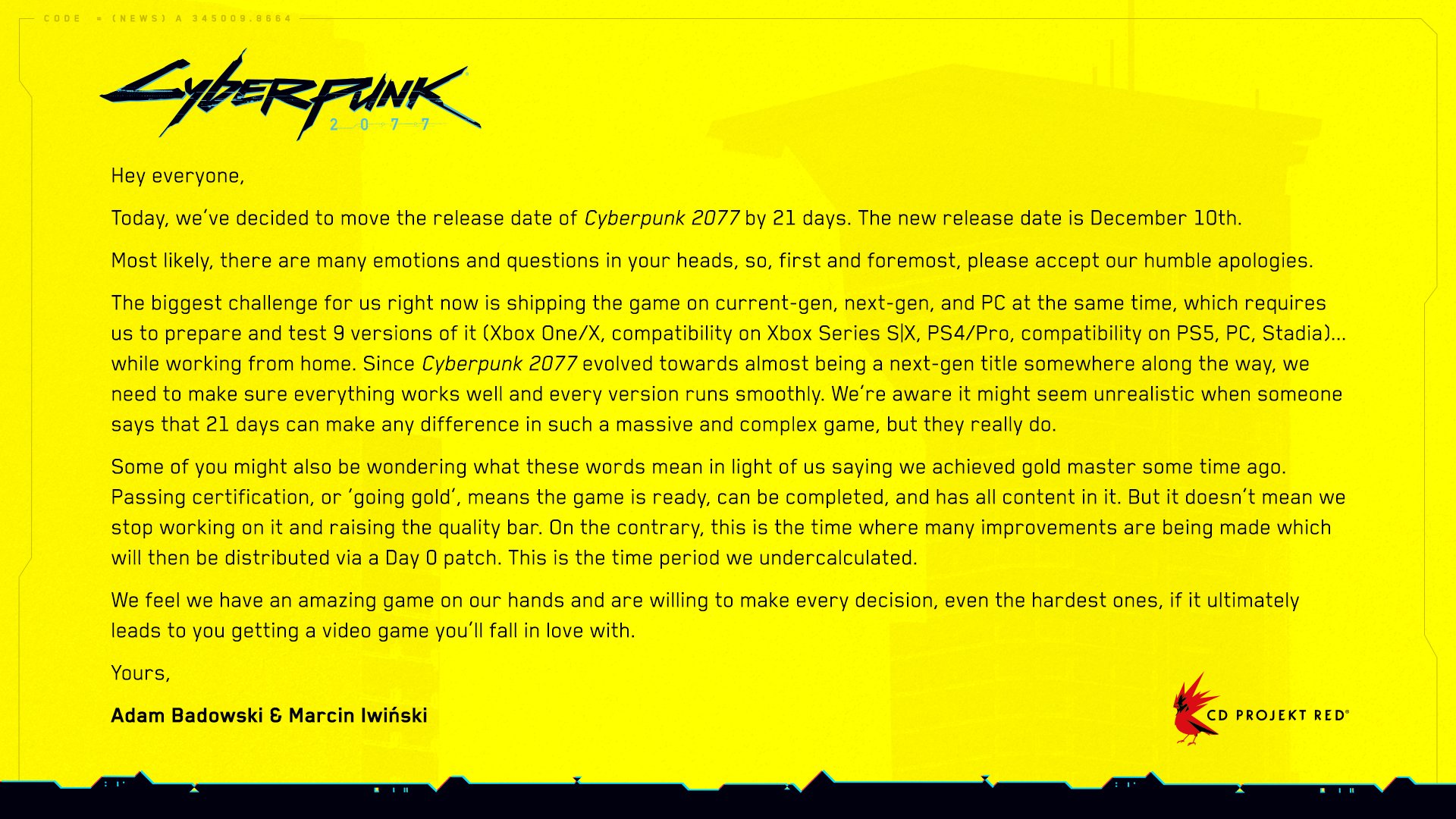 The above statement was posted to twitter earlier today. As you can imagine, gamers are not happy to hear that the game has been delayed yet again (just check out the replied to the tweet). If the game is delayed again it will miss the Holiday period, which could affect sales.
Cyberpunk 2077 was originally planned to release in April 2020, but was pushed back to September in January 2020, before the Coronavirus pandemic hit. The game was then further delayed to November 2020 in June 2020.