FIFA 21 is heading to the PS5 and Xbox Series X|S on 4th December. With only a few weeks to go until the game is available on next-gen, the first gameplay details have been released along with a new 30-second trailer that doesn't actually show any gameplay.
FIFA 21 on the PS5 will make use of the many unique features the console has to offer. Starting with the DualSense controller's haptic feedback, the game will give you more immersive feedback with the left-side of the controller vibrating when taking a left-footed shot, or strong vibrations when getting tackled head-on.
The DualSense's adaptive triggers will feel more resistant as players get tired, again adding to the immersion of the game. The PS5's Activity Cards will let you jump into your favourite mode directly from the PS5 Home Screen, with the game loading in just under two seconds from pre-game menu to a Kick-Off match.
It goes without saying but the visuals will also be updated to take advantage of the next-gen hardware. The game will make use us technology such as LiveLight Rendering and strand-based hair to an incredible new level of detail.
A new gameplay camera gives you a fresh perspective on it too. The EA Sports GameCam is inspired by the look and feel of top-level football broadcasts, and makes a big difference to the game. We're excited for you to try it.
The crowds in the stadium will be getting upgrades too. Firstly, PreMatch Live adds a series of new cinematics to increase your matchday immersion. You'll see fans streaming through the turnstiles and more as it sets the stage for the most authentic matchday experience FIFA has been able to deliver.
Secondly, we're now able to better reflect the incredible scenes that go alongside a UEFA Champions League-winning goal, or relegation-saving equalizer. New Big Goal Moments mean you'll now see the absolute scenes in the stands and on the pitch after crucial goals.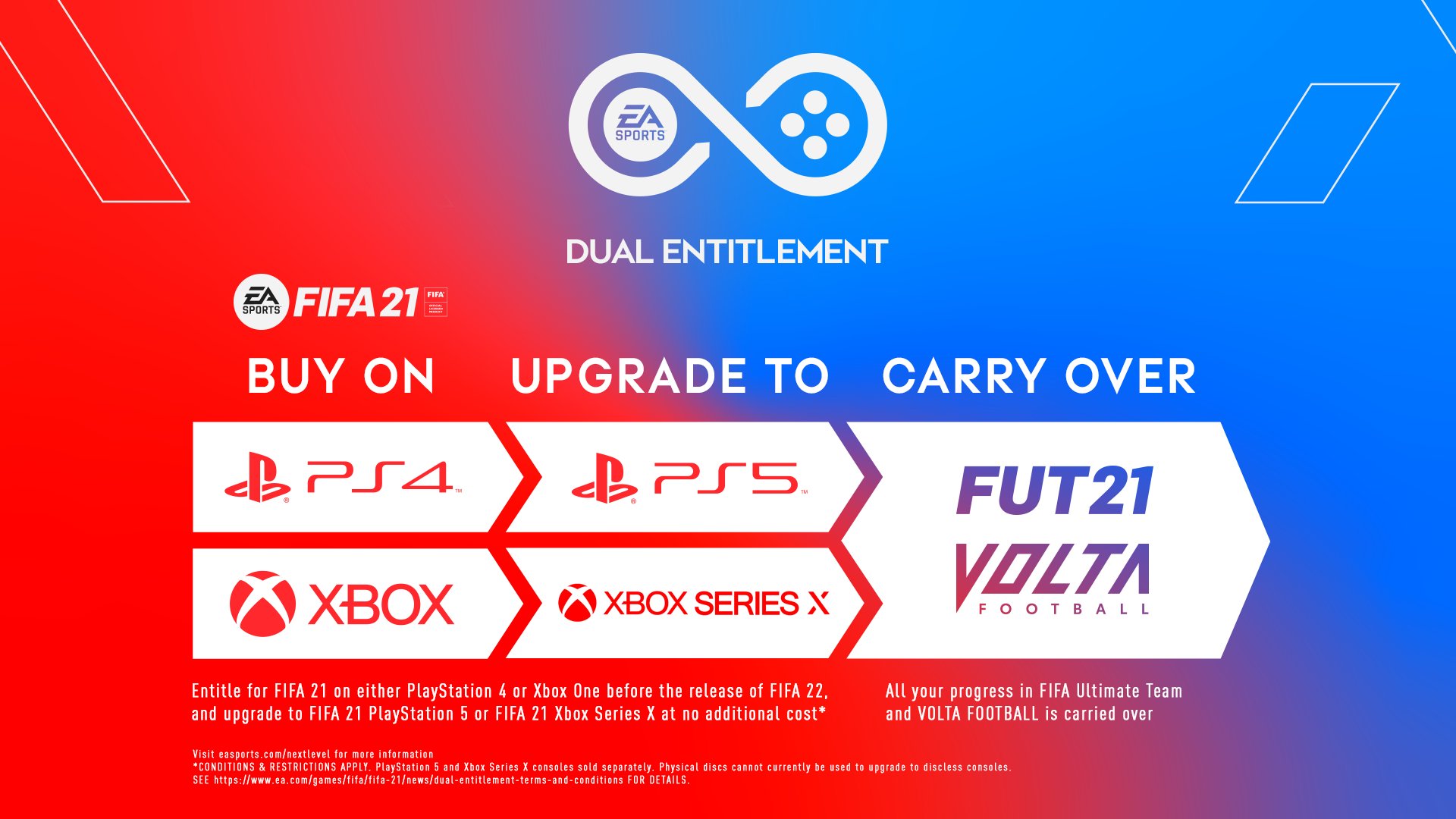 Those who already own FIFA 21 on PS4 or Xbox One will be able to upgrade to the next-gen version for free when the game is released. The upgrade will be time-limited until FIFA 22 launches in late 2021.
The next-gen version will let players carry over their FIFA Ultimate Team and Volta Football progress and content, so players can continue where they left off.