As you may be aware, the Xbox Series X|S consoles launched worldwide today. But to the disappointment to many, Amazon has been experiencing logistical issues worldwide, causing some pre-orders to be delayed. This means that similar issues could affect the PS5 launch this week and next week.
From yesterday evening, Amazon (US) started emailing some customers that their pre-orders would be delayed and may not arrive until early 2021.
We're contacting you with an update regarding your order of Xbox Series X. We expect to ship your console in the coming weeks as we receive more inventory in November and December. At this time, we anticipate that you will receive your Xbox Series X by 12/31 or before. We are making every effort to get it to you as soon as possible and apologize for any inconvenience.
Amazon UK have also been having similar issues, albeit not as bad as the US. Some pre-orders have been delayed, but only by a few days. But even then, if you're pre-ordered for launch day, you can at least expect to receive it on the said day.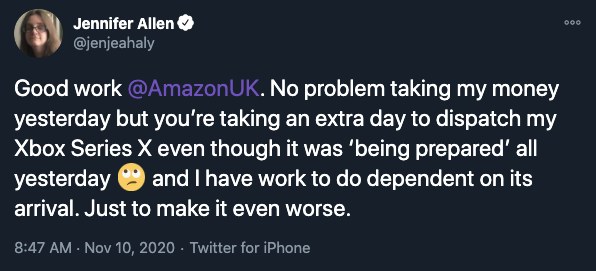 The response to the above tweet from Amazon suggests that they did not receive sufficient stock to fulfil orders, bute have still been taking money from cards.
This means that you can almost guarantee similar issues when the PS5 launches in the US, Canada and select other countries this week, on 12th November 2020, and in the UK and Europe next week, on 19th November 2020. I personally had issues with the PS4 when it first launched back in 2013.
While some issues cannot be avoided and not everyone would get their pre-orders on launch day, it's undoubtedly annoying for gamers to find that their console will not arrive on time only hours before launch – especially if may have booked days off work to accept delivery and play on their new console.