The PS5 is compatible with the PlayStation VR headset, however, an adapter is needed before you can connect it to the new console. If you've been keeping tabs on the various PS5 unboxing videos this week, you will have noticed that the adapter isn't actually included with the PS5.
This means that you will need to request the free adapter manually. Sony has now opened up the PS5 Adapter website, so you can request your adapter. In order to do so, you will need your PS VR serial number (for models CUH-ZEY1 or CUH-ZEY2).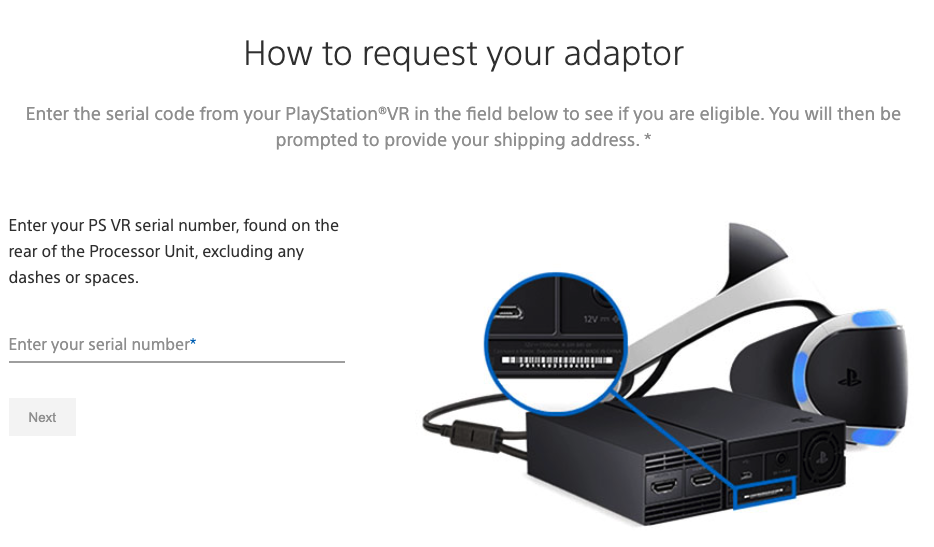 So make things more complicated, you must be over 18 to request one, and only one adaptor is allowed per PlayStation VR headset. The shipping address must also be in a country where PS VR is licensed for sale.
If you get stuck, refer to Sony's FAQ for further assistance.
The new HD camera for PS5 is not compatible with PS VR, either. You will need to use the PS Camera (for PS4) with a PlayStation Camera adaptor (request it via the link above) to use PS VR on PS5.
The PS VR adapter for the PS5 looks like as follows, which was first tweeted by @HiLL_SHERPA:
A better photo was later tweeted by Shuhei Yoshida showing a clear image of the adapter and the connector. The adapter and the PS VR unit will take up 2 of the 3 USB ports on the PS5, leaving you with just one port remaining to charge the DualSense controller.