Despite Sony previously saying that PS5 pre-orders would being after advanced notice, it's hasn't really worked out that way. This week, many retailers across the world began offering PS5 pre-orders following the PS5 Showcase, with GAME in the UK going first, followed by Amazon, John Lewis, Argos and more.
GAME UK was the first to start pre-orders on the night of the PS5 Showcase, with the console selling out shortly after midnight. However, it turns out that not everyone who managed to place their pre-order will be guaranteed a console. Due to unprecedented demand, some pre-orders are being cancelled.
Sony have admitted that they made a mistake and will allocate more consoles for pre-ordering over the next few days.
GAME UK isn't the only one canceling pre-orders, however. Further reports also show that Argos, Amazon, John Lewis and others are also canceling pre-orders due to over-selling their stock allocation.
Argos is in particular the worst of the lot, having taken the money for the console upfront and taking up to 5 working days to refund payments.
John Lewis has also cancelled some pre-orders and has taken upfront payments which will take 5 working days to return. A image posted on hotukdeals shows a cancelled order: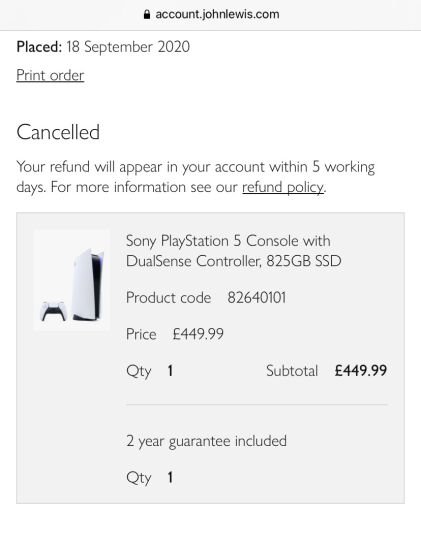 Amazon (in the US at least) have also been emailing gamers, informing them that the PS5 may not arrive on launch day due to "high demand", which sounds like they oversold their allocation.