In September, Sony announced the PlayStation Classic, a mini version of the original PlayStation, which comes with 20 pre-loaded games. Only a handful of games were announced for the retro console, but today, the full list of games have been released, and includes Metal Gear Solid and Grand Theft Auto.
PlayStation Classic Games
Battle Arena Toshinden
Cool Boarders 2
Destruction Derby
Final Fantasy VII
Grand Theft Auto
Intelligent Qube
Jumping Flash!
Metal Gear Solid
Mr. Driller
Oddworld: Abe's Oddysee
Rayman
Resident Evil Director's Cut
Revelations: Persona
Ridge Racer Type 4
Super Puzzle Fighter II Turbo
Syphon Filter
Tekken 3
Tom Clancy's Rainbow Six
Twisted Metal
Wild Arms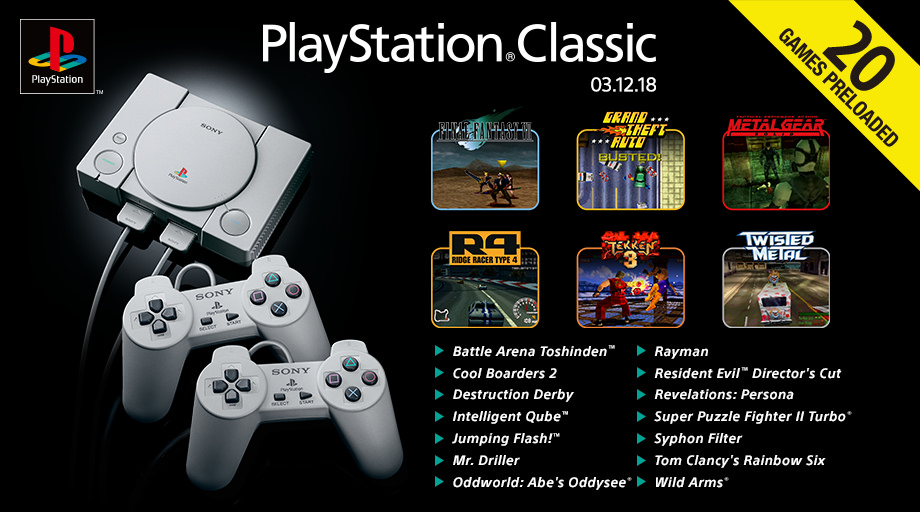 The console will retail for £89.99 and will be releasing on 3rd December 2018. The console features a good set of games, but some obvious choices are missing – where's Crash Bandicoot and Spyro the Dragon? Perhaps the remake of these games on the PS4 has mean they were left out from the retro console.