If you were planning on testing out PlayStation VR before buying, be warned that Game in the UK are charging for the privilege. It will set you back £5 for a ten minute demo, or £15 for a thirty minute demo. The play test is free if you go ahead and purchase the system, however. It may seem like an unusual move, but apparently Sony has given permission for stores to charge for a demo.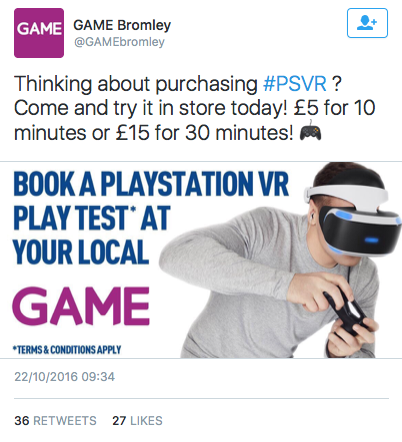 This mode is likely to put many people off, and may even slow down in-store sales for Game.
In a statement to Eurogamer, Game explained their reasoning for this:
Our pay-to-play PlayStation VR experience is a GAME-led initiative. The cost to use the in-store PS4 pod is entirely refundable for customers that go on to buy either the headset or a PS4 console. The payment allows us to ensure that we have dedicated staff manning the PlayStation VR pods who have been fully trained to adhere to best practice demo guidelines.

The demos are intended to give our customers access to one of the most exciting new gaming technologies in 2016 and provide them with the opportunity to get a feel for VR before they commit to buy.