Sony and MediaMolecule have detailed the pre-order bonuses for LittleBigPlanet 3 in Europe, which are similar to those in North America. The game will be releasing on the PS4 and PS3 on 19th November, 2014, and you'll be able to get your hands on a number of bonuses if you pre-order the game before release, which are available exclusively for the PS4.
LittleBigPlanet 3 Extras Edition
You can get the Dragon Age: Inquisition Costume Pack and the '4ThePlayers' costume pack, which include a range of licensed costumes for the game's entire cast of characters including OddSock, Swoop, Toggle and the iconic Sackboy. Costumes include a host of iconic PlayStation 4 characters including the menacing Helghast, smoke-shifting superhero Delsin Rowe and heroic Ellie from The Last of Us: Remastered.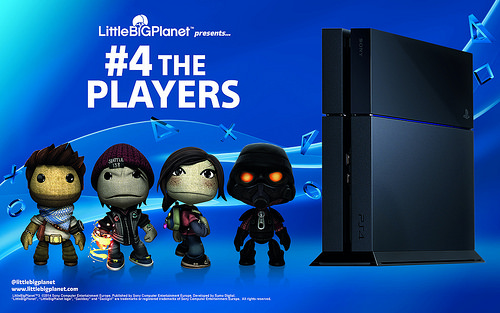 Mythical Creatures and Hidden Animals
Other available pre-order bonuses include The 'Mythical Creatures' and 'Hidden Animals' costume packs, each featuring four completely original outfits, allowing players to transform Toggle into a yeti or turn Swoop into a fantastical firebird.
PlayStation Lineage Costume Pack
Look out for the PlayStation Lineage Costume Pack – a pre-order bonus that will give you access to Sackboy costumes from iconic PlayStation IPs including Journey, God of War, Heavy Rain and ICO!
Instant Access content exclusive to the PS Store!
If you pre-order the Extras Edition of LittleBigPlanet 3 from the PlayStation Network you will receive the Dragon Age: Inquisition, '4ThePlayers' packs and can celebrate immediately with the 'Get it Now' T-shirt pack.  The 'Get it Now' pack will give players instant access to the contents right away for Sackboy to wear in LittleBigPlanet 2, LittleBigPlanet PS Vita and LittleBigPlanet Karting. They'll also be able to wear it immediately in LittleBigPlanet 3 on release.