Guerrilla Games have revealed details of Killzone: Shadow Fall DLC season pass, as well as releasing a new trailer, which provides an action-packed look at the multiplayer mode. The first six DLC packs for the PS4 exclusive has been revealed, and include online co-op expansions, and map packs. The season pass will be available for just £15.99/€19.99, giving you access to all six DLC packs.
Multiplayer trailer:
The season pass will include access to:
Online co-op expansion pack
Focusing on team play and intense combat, the online co-op expansion pack adds a new co-operative game mode in which you and up to three online friends must survive against impossible odds. Fight waves upon waves of enemies in four new arena maps, featuring a unique leveling system and new unlocks.
Three online co-op map packs
Each map pack consists of two brand-new arena maps you can play in co-op mode with your friends. Please note that these arena maps will only work with the online co-op expansion pack.
Two additional multiplayer expansion packs
We'll reveal more about these additional multiplayer expansion packs when Killzone Shadow Fall's launch date nears. Suffice to say they'll offer many hours of additional multiplayer thrills!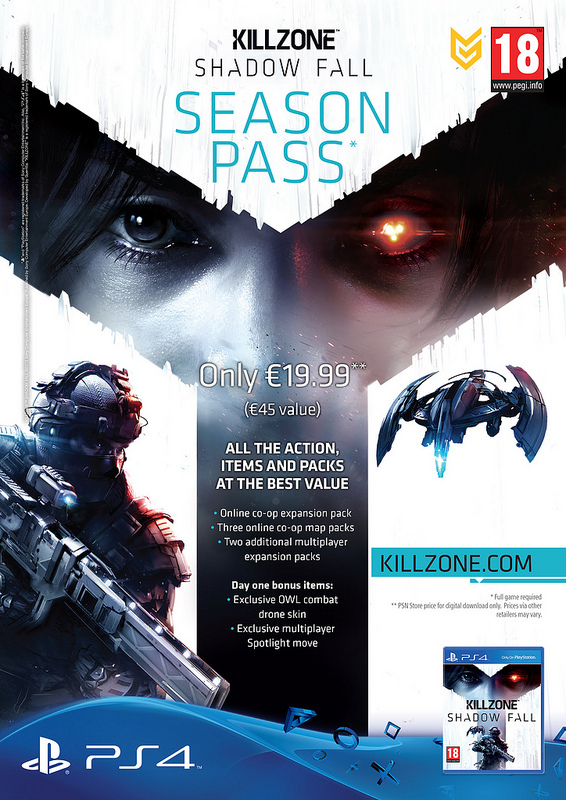 If you purchase the Season Pass on day one, you'll also receive access to an exclusive OWL combat drone skin and a unique Multiplayer Spotlight move.