Details of the Collector's Edition of The Walking Dead have been leaked, exclusive to Gamestop. The retail version of the game will be releasing in North America on December 4th 2012, but it now appears that a special Collector's Edition will also be available. In addition, Telltale Games has revealed that the fifth and final episode in the series will be releasing this November.
The Collector's Edition will retail for $69.99, and will include:
All five episode on one disc
The Walking Dead Compendium One (which normally retails for $59.99 and includes the first 48 issues) with exclusive Charlie Adlard cover art
A Collector's Edition box featuring Charlie Adlard artwork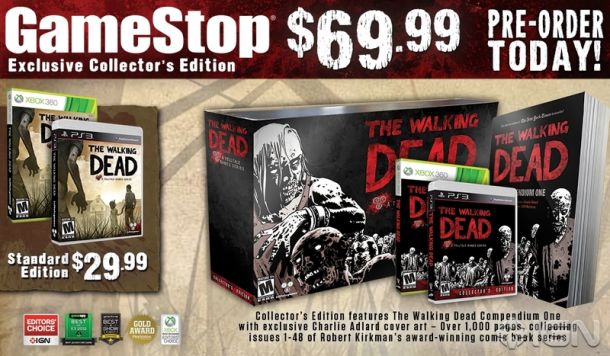 The standard version will be available for $29.99, and will include just the five episodes on a single Blu-ray disc. For the time being, the retail version will only be available in North America, but hopefully a European release date will be announced soon.