Sony has announced the return of PlayStation PLAY in North America, the annual summer program showcasing a diverse lineup of great PSN games and special offers. PSN PLAY begins July 24 on PSN when the first game in the lineup becomes available for pre-order
PlayStation Plus members get 20% off each title for a limited time only, and as a bonus this year, Sony are giving cash vouchers to redeemed on PSN for purchasing any two or more of the awesome PSN PLAY titles. Games will be available to pre-order a week before it's released on the PlayStation Store.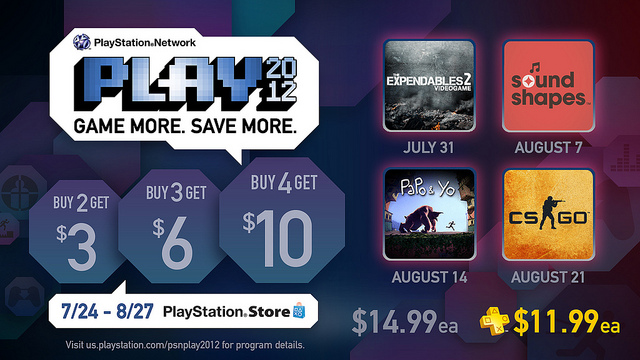 Here are the games on offer:
PLAY The Expendables 2 Videogame (PS3) First On PSN before anyone else!
PLAY Sound Shapes (PS3/PS Vita) Anywhere as we offer the PS3 and PS Vita version of the game for the price of one.
PLAY the indie phenomena Papo & Yo (PS3) Exclusively On PSN
PLAY Counter Strike: Global Offensive (PS3) Hardcore Action with your DualShock or PlayStation Move controller.
Check out all details about the four PSN PLAY games:
July 31: The Expendables 2 Videogame (PS3) – Leading off the PLAY promotion and launching first exclusively on PSN, the latest and most explosive co-op action shoot'em up title coming to PSN, based on the popular movie franchise this game leads players right into the upcoming The Expendables 2 movie. The story begins when four Expendables (Barney, Gunner, Caesar and Yin Yang) are hired to rescue an extremely valuable, kidnapped Chinese billionaire. Featuring vehicular combat, four-player co-op story and challenge modes, and a wealth of exotic locales, The Expendables 2 Videogame offers everything an action-game fan could want. Pre-order The Expendables 2 Videogame starting July 24 for $14.99 ($11.99 for PLUS members) and check out the following trailer.

August 7: Sound Shapes (PS3/PS Vita) – Play, Compose and Share in a unique take on the classic sidescrolling platformer where your actions make the music. Equal parts instrument and game, Sound Shapesgives everyone the ability to make music. Play through a unique campaign that fuses music and artwork into a classic 2D platformer featuring artwork by Pixeljam, Capy, Superbrothers and more, with music by I Am Robot and Proud, Jim Guthrie and Deadmau5. Additionally, Sound Shapes comes to the PLAY program as a cross-platform title, allowing players to play at home on their PS3, or take it on the go with PlayStation Vita. Create and upload your levels on either platform for others to download and remix on their own. Sound Shapes creates an ever-changing musical community for everyone to enjoy, anywhere. Pre-order Sound Shapes starting July 31 for $14.99 ($11.99 for PLUS members).

August 14: Papo & Yo (PS3) – PSN exclusive indie game Papo & Yo tells the story of a young boy, Quico, and his best friend, Monster. Taking place in a dreamlike world inspired by South American favelas, Papo & Yoentices players to explore and solve puzzles as Quico, while simultaneously preventing Monster from eating poisonous frogs, which throws him into an uncontrollable rage. As one of PSN's most-anticipated indie titles,Papo & Yo is a truly unique and beautiful experience that players can only get on PSN. Pre-order Papo & Yostarting August 7 for $14.99 ($11.99 for PLUS members).

August 21: Counter-Strike: Global Offensive (PS3) – One of the gaming world's most celebrated first-person shooter series makes its way to PSN with Counter-Strike: Global Offensive, offering an updated take on the tried-and-true objective-based gameplay. Pitting teams of counter-terrorists against terrorists, Global Offensivefeatures a number of classic game types like Bomb Diffusal and Hostage Rescue, and introduces two new modes: Arms Race and Demolition. Up to 10 players can engage in online matches, and the game also supports PlayStation Move, giving players a brand new way to experience the classic Counter-Strike gameplay. Pre-order Counter-Strike: Global Offensive starting August 14 for $14.99 ($11.99 for PLUS members).