Another PlayStation system celebrates a birthday this week – this time it's the PSP. March 24, 2005 will always be known in PlayStation history as the day Sony debuted the PSP system in North America. With its best-in-class, 4.3 inch high-resolution LCD display, vast library of software titles and built-in wireless communications, the PSP system was the first integrated handheld entertainment system to introduce console-quality gaming and comprehensive entertainment capabilities to the portable market.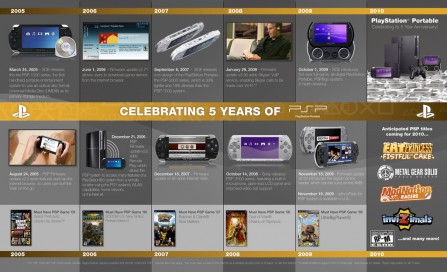 Half a decade later, PSP is still going strong and continues to provide the best portable gaming experience and offer incredible value to consumers. Of course, of the past five years the basic PSP model has undergone three hardware updates and even a completely new model has been released (the PSPgo).
There are now more than 520 PSP titles, including God of War: Chains of Olympus, Gran Turismo, LittleBigPlanet, Resistance: Retribution, and SOCOM: Fireteam Bravo as well as more than 20,000 movies and TV episodes, "minis," digital comics, original programming, and more than 300 games available on the PlayStation Network.
In 2010 you can expect more great titles and possibly another hardware update (PSP2 anyone?).