Future and Sony Computer Entertainment Europe have today announced the launch of FirstPlay – Europe's answer to Qore and the first HD interactive show for gamers, exclusive to the PlayStation 3 and available to those living in Europe. Like Qore, FirstPlay aims to bring gamers HD reviews of previews of the latest games and content, including exclusive PSN downloads. FirstPlay will have it's own unique menu system and interface – different to that of Qore.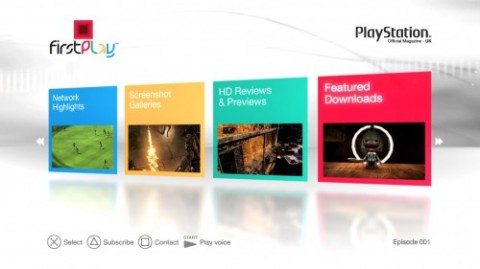 Weekly episodes of FirstPlay will be rolling out across selected European countries in March, and will expand to other PAL territories later in 2010. Gamers will be able to buy three-month subscriptions for £8.99 or purchase single episodes from 99p. With 13 episodes per quarter, £8.99 seems like a pretty good deal, saving the average gamer over £3.
FirstPlay's bespoke content is being created by a hand-picked team of TV and gaming veterans with the reviews and previews coming from the team behind the respected Official PlayStation Magazine team. FirstPlay will be supported by advertising, just like Qore so you can expect banner and pre/post-roll adverts.
"As PlayStation 3 moves the gaming experience to a more social and competitive online environment through the PlayStation Network, so it becomes critical that we're offering gamers the very best content and services through this channel. FirstPlay is a great example of this. Future has an outstanding track record in producing content for gamers that is informed, impartial, relevant and with the right production values, so we see them as a natural partner to work with as we move to on-console media development." – Ray Maguire, Senior Vice President of Sony Computer Entertainment Europe and Managing Director of Sony Computer Entertainment UK
"FirstPlay is a ground breaking development, not just for gamers, but for the media industry, and we are delighted to be partnering with Sony on this pioneering project. On-console delivery is an exciting next step in Future's strategy of providing high quality content for readers and integrated media solutions for advertisers. We believe that we've created a product that will appeal to gamers in a uniquely effective and targeted way." – Robert Price, Chief Executive of Future UK
Visit the FirstPlay website (link broken) or become a fan on Facebook.