The PlayStation Video Store is a great addition to the PS3 and PSP, adding to a number of entertainment services already available on the PlayStation. The Video Store has been available in North America for over a year now and was only recently released in a few countries in Europe. The online service allows you to rent or purchase movies straight from the comfort of your home.
The store already has more than 2,000 movies to rent (from €1.99) or to buy (from €7.99), many in High Definition (HD) as well as Standard Definition (SD). You can find many movies from studios including 20th Century Fox, The Walt Disney Company, Lionsgate, Metro-Goldwyn-Mayer Studios Inc. (MGM), Paramount Pictures, Sony Pictures, Universal, and Warner Bros. But thats not all, some independent movie studios have made it onto the store too, though these vary in each country.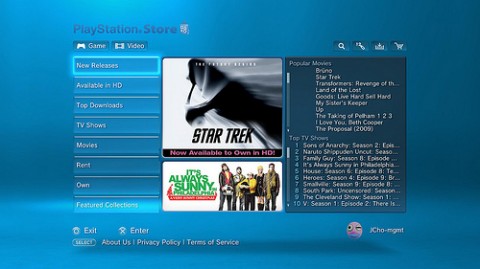 When renting movies, you can download the video and watch up to 14 days later, though this varies between titles. Once you start watching the movie, you have 48 hours to finish watching it. If you can't wait to start watching it, you can stream the movie while downloading it to your console. You can start watching the movie within minutes of starting the download, though this does depend on your Internet connection.
If you are unsure of what you want to rent or buy, you can read the synopsis from the store or watch a trailer. Not all movies have trailers but those that do can be streamed rather than downloading to your hard disk. You can see the download size, runtime, cast list and other information about the movie too.
SD movies are usually between 1GB and 2GB in size – on a 8MB connection, this would take you under an hour to download. HD movies are much larger and are larger than 5GB and would take you much longer to download. HD movies cost slightly more to rent and take longer to stream, so we recommend letting the first half of the movie download before streaming it. The downstream speeds from Sony are fantastic, allowing you to utilize your full download rate.
The quality of SD movies are as good as DVD quality if not better. Of course, streaming movies does reduce the quality slightly but not noticeably. SD movies have a resolution of 720 x 576 (standard PAL DVD resolution), while HD movies are at 720p. It's not Full HD as this would result in file sizes over 15GB.
You would need to have a large hard drive in your PS3 if you wish to own lots of movies. Luckily, you can backup your movies to a external hard disk by pressing

and selecting "Backup". Backed-up movies are only playable on the PS3 so they need to be transfered back before you can play them. You can also convert movies downloaded on the PS3 to work on the PSP, if you want to watch it on the go.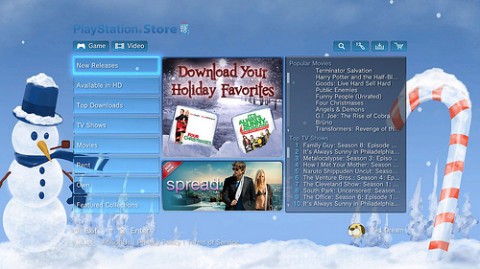 Sony has done a good job with the video delivery service, but there is a minor downside. The price of movies to own are quite high, especially compared to the price of DVDs. For example, buying Harry Potter and the Half-Blood Prince costs £12.99 but the DVD costs £13.99 for a 2-disc set with special features. A £1 difference between a digital copy and a physical copy doesn't make sense as they are no packaging or production costs involved, granted there are still distribution costs.
Overall, the service is a great addition, reinforcing the PlayStation 3's "It only does everything" motto. It's another step in making the PS3 the center of the living room (or bedroom). If Sony's subscription plans go through, lets hope they introduce a monthly rental subscription for downloading the latest content.