The MAG Beta is now over, after running for the past few months. With the end of the Beta, the only thing left to look forward to is the launch of the game on January 26th 2010. The official box art for North America has been revealed (see below) as well as some statistics from the beta. In short, over 42,000 matches were played during the beta test. Between November 9th and December 5th, over 65,000 players logged on, making almost 18 million kills. See the full statistics below.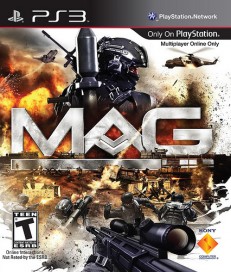 Statistics
More than 42,000 matches were played over the course of the full public beta (August 17-December 5)
During October's beta period alone, nearly 534,000-plus miles (860 million meters) were traveled in-game by MAG players each week
During the final month of Beta 4 and 4.5 periods (November 9 – December 5):

Of the 65,000+ players that logged on, 17,000 of them qualified for Squad Leader, 3500 people qualified for Platoon Leader, 1100 folks made it all the way to OIC, and 206 dedicated warriors made it all the way to the level 60 experience cap.
Nearly 18 million kills were made and an excess of 700 million shots were fired.
The Top 3 most played maps all belonged to the Sabotage mode. They were, in order, Syr Darya Uplink, Darien Network, and Copper Hills Relay.
Of all PSN users who participated in the 4.0 and 4.5 betas, chennault2424 was the most prolific – he earned more than 250,000 XP!