Over the last week and a half, we've been playing the SOCOM: Confrontation beta, now that it is finally available. We've decided to break from playing the game to bring you our impressions on the game. It's taken some time, but SOCOM is finally here on the PlayStation 3. The franchise enjoyed much success on the PlayStation 2 and the new title is looking to fantastic. SOCOM: Confrontation is an online-only multiplayer game, allowing up to 32 players to battle it out across seven maps.
Even though the servers are overloaded currently and there is noticeable lag in the game, the game is still good. Due to the high number of users in the beta and the lack of planning from the developers side, there are frequent disconnects and trouble connecting to the servers at times. It's disappointing that these problems were addressed earlier, especially since other games suffered the same fate early on (MGO anyone?). Let's hope SlantSix get their act together and upgrade the servers before the game is released.
In other disappointments, the game is quite buggy this close to release. A patch has already been released to address this and the above server issues, and another is on it's way. There is no feedback website for the beta to report bugs/issues, which means SlantSix have no way of finding out what is going wrong. Let's hope the game doesn't get delayed again! For those of you lucky enough to be in the beta, make the most of it now. There is still another two weeks to go before the end of the beta testing phase so if the game does get delayed, at lease you have a good play before anyone else. Furthermore, will SlantSix even fix anything between the beta and the final release?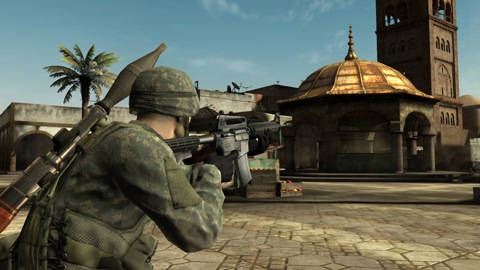 Now lets talk about the good bits. The graphics are amazing [for an online game] with highly detailed character models and attractive environments. The weapons look realistic and there is a nice range of different weapons to choose from. There are a lot of customization options too, from outfitting your character with different clothes and accessories to customizing your weapons and attachments. You can change your character's clothes, apply camouflage, put on boots and add other apparel. You can then choose from 37 real-world weapons, including hand guns, assault rifles, grenade and rocket launchers.
The terrorists are no longer part of the action, instead there are commandos versus mercenaries. In addition, you are no longer limited to the US Navy Seals – you can also choose to play as the British SAS, French RPIMa and more. Each side features unique weapons and equipment. You are also no longer limited to a certain class (assault, sniper, support etc.) so you are free to equip yourself as you like.
Team work is always an important part of combat, and Confrontation is no different. You can join or create a clan, where you can further customize the options. You can create a logo and uniform for your clan, create a online profile, schedule matches on the community calendar and more. Like in most games from the franchise, you can communicate with players in the game using a headset. SOCOM: Confrontation will be the first game to come with the official PlayStation bluetooth headset.
There are seven maps set in North Africa, supporting up to 32 players. Each map has day and night variations and scale depending on the number of players involved. Players can use the environment to their advantage (or disadvantage). Through use of the bullet penetration system, players can shoot through thin walls and other structures or blow up vehicles.
The action is slower that that of Call of Duty 4, so players will need to adjust to the slower paced action. That being said, players of Metal Gear Solid 4 (or MGO) will find the action slightly faster. Your character will take a few seconds to reload and their running speed will vary depending on their equipment. Wearing heavy armour will show your soldier down but will offer better protection.
Despite having issues, SOCOM: Confrontation is looking to be a welcome addition to the PS3. SlantSix will need to get the server issues and bug fixes out of the way before the game comes out next month (if all goes well). Fans of the game will certainly be impressed with what has been achieved so far, so lets hope the beta will solve any immediate issues with the game.
---
UPDATE:
We're written that SOCOM: Confrontation has "amazing graphics", but please remember that this is an online only game. Online games need to have lower quality graphics compared with normal "offline" games and they need to reduce the amount of data being transferred between the console and the server (via the Internet). More graphics mean more things to keep track off, which means more data transfer and thus causing lag. When we talk about graphics, we are comparing it with other online games.