Sony has released its latest sales and financial figures, revealing that the PS4 has sold 110.4 million units worldwide, with 13.5 million sold last year alone. In terms of software, nearly 245 million games were sold, with digital sales overtaking physical for the first time.
The figures mark Sony's second best year for PlayStation, and the second biggest revenue for any platform holder in video game history. The company generated over $18.19 billion in revenue and $2.19 billion in profit in FY19.
The figures from Sony also reveal 41.5 million PlayStation Plus subscribers at the end of March 2020, up from 36.4 million subscribers in the previous year.
Digital sales of games also overtook physical purchases for the first time ever, with 51% of software sales now digital. In the last quarter, this ratio was 66%, likely spurred on by the COVID-19 lockdown and the temporary closure of many physical game stores.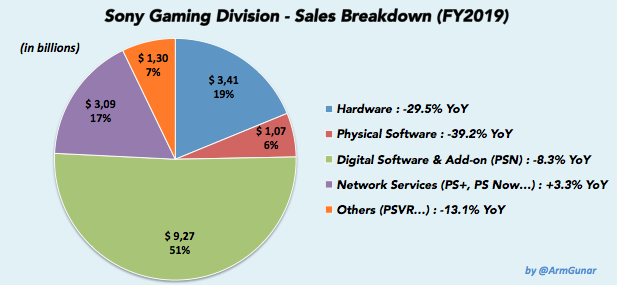 You can read more on Sony's financials and see various breakdowns over at resetera.