The PS4 has a fairly robust system that allows parents control what their children can and cannot do on the PS4. However, it's not always easy setting up these restrictions, and we are always asked about the differences between Master accounts and sub-accounts. We're hoping this guide will clear up any misunderstandings and inform you on how to effectively use Parental Controls.
Definitions
PSN Account – A PlayStation Network Account comes in two forms: a Master Account, and a Sub-Account. To register for an account, you need to have a valid email address and live in a country where the PlayStation Network is available.
Master Account – This a type of PlayStation Network account for users over the age of 18. This account is able to set and change parental controls for Sub Accounts, and generally have full access to the PS4. This type of account also has it's own payment details and wallet for purchasing games and content from the PlayStation Store.
Sub-Account – This type of account is for users under the age of 18, and is linked to and controlled by a master account. By creating a sub account for your child you can prevent them from accessing PlayStation Store content that is unsuitable for their age, user generated content and online gameplay. You can also stop your associated sub account from making purchases without your consent. This type of user shares the payment details and wallet from the associated Master Account.
PSN – Also known as the PlayStation Network, which is the online platform for PlayStation consoles. The PlayStation Network is where you can play games online with other players, join and engage in online communities, download games and content, and lots more.
PlayStation Store – This is the digital store where you can purchase games and content for you various PlayStation consoles. It forms part of the PSN, and can be accessed from your console and from a browser.
System User – A user account on the PS4 is known as a System User. Each System User could also have a PSN account associated with their login.
Guest User – The PS4 allows a friend to login and use your system temporarily. This is particularly useful if the friend wants to make sure any unlocked trophies are saved and synced to their PSN Account.
Child Accounts
If you are under 18, or are creating an account for a child, you'll be creating a Sub-Account, which means a Master Account holder would need to create the Sub-Account for you. Having a Sub-Account automatically prevents you from accessing certain functionality on the PlayStation Network. Here is a list of just some of the functionality a Sub-Account will miss out on:
Own Wallet or Payment Card – the Sub-Account will share a Wallet with the Master Account, and spending limits can be places so the account cannot overspend in a given month.
Broadcasting gameplay online – the Sub-Account will not be able to broadcast their games via Twitch, YouTube or other supported services until the account is upgraded to a Master Account after the 18th birthday.
Local Game Restrictions – depending on the parental control settings on the Sub-Account, a parent can prevent the account from accessing certain games. For example, 18+ games can be blocked off from an account that's for a 15 year old. Locks games have a padlock icon on the PS4's menu, so the user know the game is unavailable. Of course, these restrictions can be lifted, but only affect games played locally. There are separate restrictions for the online games.
Online Game Restrictions – depending on the age of the user, the Sub-Account will prevent the user from playing certain games online. For example, a 10 year old will not be able to play Fortnite online, as the game is rated Teen (13+) in the US and 12+ in Europe. Unlike the local game restrictions, the online restrictions cannot be lifted or bypassed. The user must reach the minimum recommended age for the game before they can play online.
Restricted PlayStation Store – depending on the age of the user, the PlayStation Store will not show certain games. For example, a 15 year old user will not be able to see GTA V on the PlayStation Store, and therefore will not be able to purchase the game. This setting is configurable only for certain regions, and for the majority of countries, this setting cannot be changed.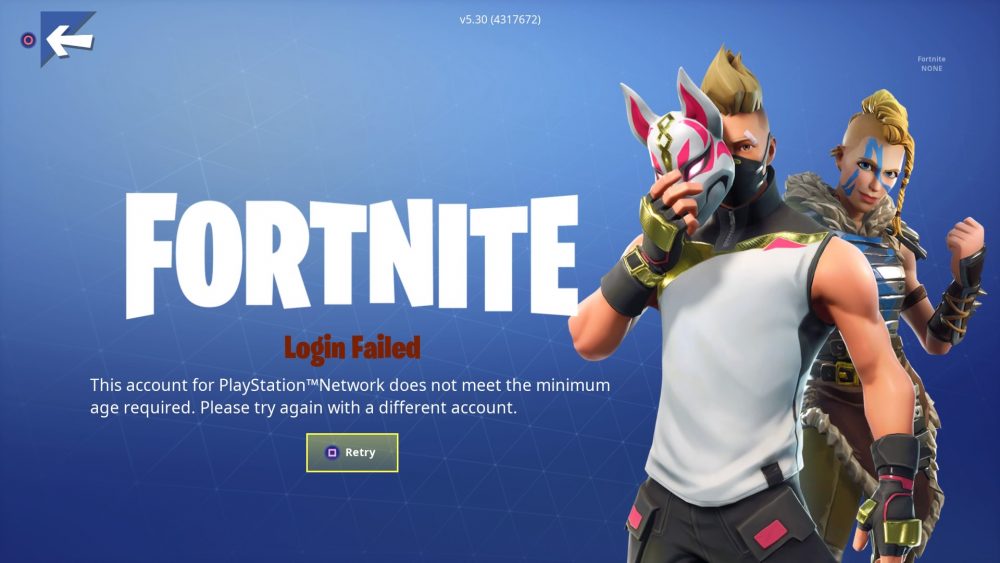 Sub-Account also come with some configurable functionality, that can be changed on a user by user basis:
Manage or Restrict Play Time
Restrict Blu-ray discs and DVD movies
Restrict Use of PlayStation VR
Restrict Use of Internet Browser
Restrict Communication with Other Players
Restrict Viewing Content Created by Other Players
Set Monthly Spending Limits
Master Accounts
Master Account have no restrictions, and there are no parental controls for these types of accounts. If you choose to setup a Master Account for your child (for example, by using a fake date of birth), you will not be able to restrict what your child does on the system. All games will be playable, online and locally. Furthermore, the account has it's own Wallet for the PlayStation Store, which means there are no spending limits or restrictions.
If you want to limit spending on a Master Account, you should not add a debit / credit card to the account, and instead purchase and use fixed price PSN Cards found in Stores. You can "top up" your Wallet with a fixed amount as and when it's needed. But it does mean automatic renewals for PlayStation Plus won't work unless you have sufficient funds in your account.
If a Sub Account is logged in at the same time as a Master Account, games on both accounts are locked or restricted until the Sub Account logs out. This is to prevent the child from switching to a different account to play age restricted games. Of course, you should protect Master Accounts with a PIN or passcode to prevent access to them in the first place.
System Level Restrictions
The PS4 also allows some restrictions to be placed console-wide, affecting all users (with the exception of parental controls). For example, you can set the default age limit for games – if a Guest user then uses your system, they will be restricted to this limit. You can also disable Guest Login entirely, and prevent new users from creating accounts on your system.
Managing Play Time
A useful feature what was implemented in PS4 Firmware 5.50 is Play Time Management. This feature allows a parent to set not only what days and times a child can use the system, you can also limit how long a child can use the system on a particular day and automatically log them out when the time limit expires. The system also lets you extend or shorten the limit on a particular day.
Videos
We've created a couple of videos demonstrating how to change parental control settings, and the impact of online game restrictions for underaged accounts. The first of the below videos had hundreds of comments on how to bypass the online restrictions for games like Fornite, GTA V and Call of Duty: Black Ops. Unfortunately, the online restrictions cannot be bypassed, which is why we more recently created the second video.
The below video shows that while the local restrictions can be lifted, any age restricted games still cannot be played online. In this example, we use Fortnite to demonstrate the restriction. The PS4 will display the following message when games have been restricted:
PlayStation Network features in the application unavailable due to age restrictions.