The PS4 is getting an exclusive private beta for upcoming shooter Call Of Duty: Black Ops 4, followed by a separate private beta in September. Starting at 5pm BST on 3rd August, the beta will be available to those who have pre-ordered Black Ops 4 for the PS4. The following weekend, the beta will open up to other platforms.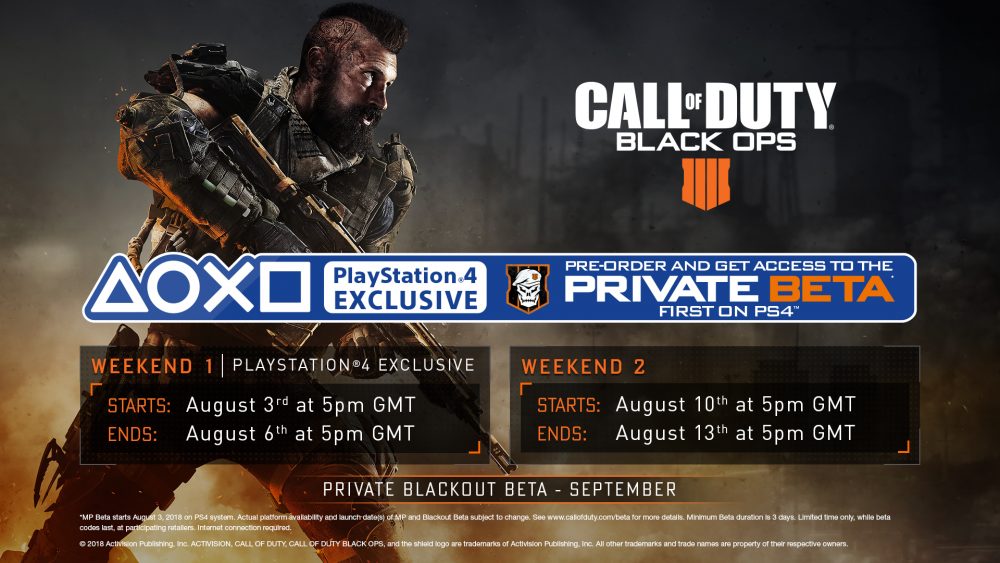 In the beta, players will be able to choose one of ten Specialist characters:
Recon
Crash
Battery
Torque
Ruin
Seraph
Ajax
Firebreak
Nomad
Prophet
All the private multiplayer beta game modes will be available on four playable maps:
Frequency: A covert listening station deep in the mountainous region of Hunan Province is being used to track strategic targets across the globe.
Contraband: Surveillance of an international arms smuggling operation has uncovered this shipping hub on a remote, uncharted island off the coast of Colombia.
Seaside: An anti-government protest in this quaint coastal Spanish town grew out of control and forced a military shutdown.
Payload: A defensive ICBM launch facility deep in an Icelandic mountain range has been infiltrated by hostile forces attempting to steal a nuclear warhead.
And along the way, PlayStation players will be treated to two brand new maps, new to the Black Ops 4 Multiplayer rotation: Hacienda and Gridlock.