Sony and Santa Monica Studio have revealed the official release date for God of War, as well as opening up pre-orders for the game via the PlayStation Store. Kratos will return to PlayStation on 20th April 2018, and to get you excited about the launch, you can check out the Story Trailer below.
The game will be available in a total of four different editions, including three special editions:
Standard Edition
Collector's Edition
Limited Edition
Digital Deluxe Edition (via PlayStation Store only)
Story Trailer
Special Editions
Pre-ordering any edition of the game will give you three legendary shields skins. And if you pre-order any edition at selected retailers across Europe, you'll also receive Luck of Ages XP Boost, which grants you +10 Luck and has 1 Enchantment Slot. Luck influences the following:
Increase XP gain
Increase Hacksilver gain
Increase the ability to trigger Perks
Collector's Edition
The 9" statue was crafted by our team in collaboration with the incredible folks at Gentle Giant. The cloth map is a unique companion to your journey, and an art piece on its own. The Huldra Bros carvings pack as much detail as their personas do in game. Just a few of the highlights, not to mention the digital items as well!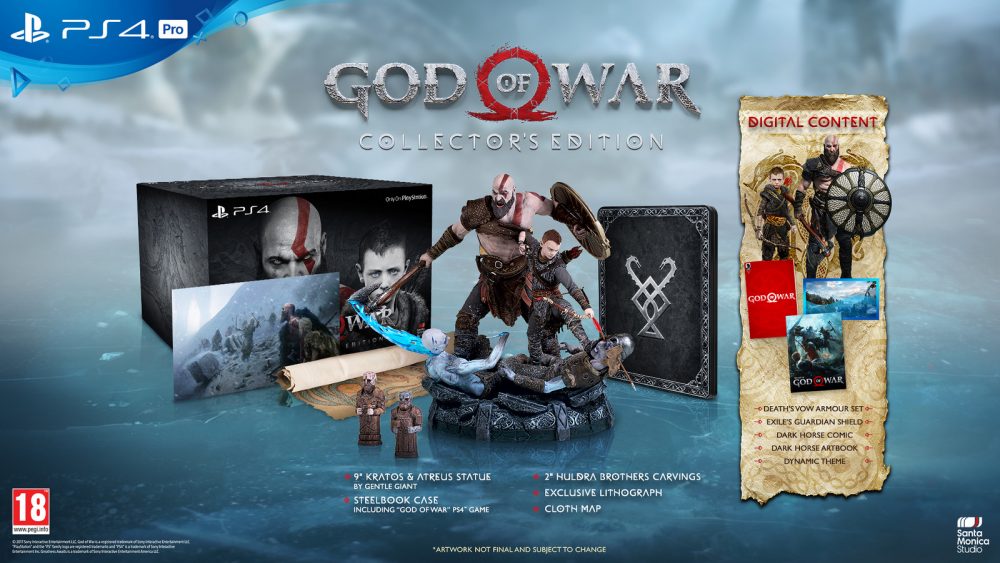 Limited Edition
Designed to look like it came straight from the forges of Midgard, the black and silver SteelBook is embossed with the Huldra Bros logo, and it comes with a physical copy of the art book by Dark Horse too. Of course, we've also included some cool in-game extras, like the Death's Vow armour set, Exile's Guardian Shield and a GoW PS4 theme.
Digital Edition
If digital-only is king for you, we didn't forget. Adorn the legendary Death's Vow Armor Set to increase your strength, and honour the solemn promise that sends Kratos and Atreus on their journey through the Norse wilds of Midgard and beyond.
The digital comic book from Dark Horse, Issue #0 starts to unearth the story of Kratos before his quest with Atreus begins. Not to mention both the digital comic and mini art book will come with exclusive creator commentary tracks.