Sony's E3 Press Conference concluded earlier today, and we've got all the announcements in one place. A number of new games were announced, including God of War, Detroit: Become Human, Resident Evil 7: Bio Hazard and more. As expected, a number of PlayStation VR titles were also shown-off.
The conference kicked-off with a full-blown orchestra, followed by some live gameplay and trailers for a number of new PS4 games, including a new God of War game.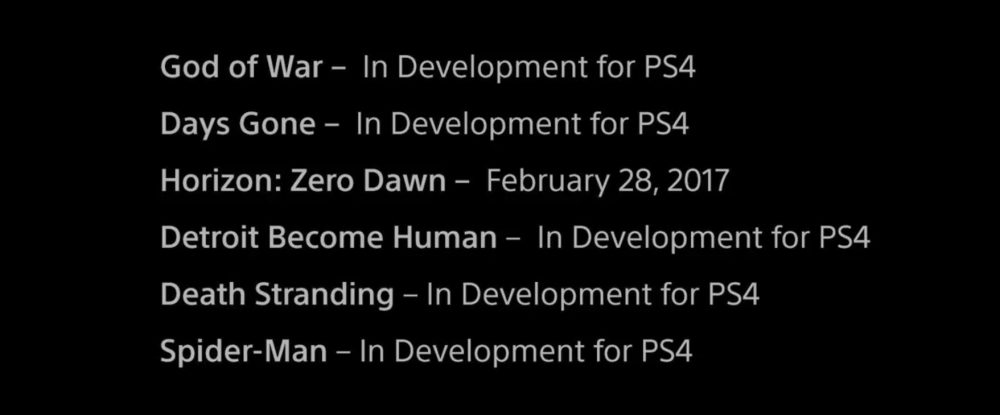 Announcements:
New God of War game, titled God of War.
Days Gone revealed as a new post-apocalyptic title.
Gameplay footage of The Last Guardian shown after years. Coming 25th October 2016.
Gameplay footage of Horizon: Zero Dawn shown off. Releasing in March 2017.
Detroit: Become Human – a new Quantic Dream title with QTE and multiple endings. Make your own decisions and try to change how the story ends.
A new trailer for Resident Evil 7: Bio Hazard revealed. Coming 24th January 2017 as a VR title.
Crash Bandicoot is coming to PS4, fully remastered from the ground up. Crash 1, Crash 2 and Warped all coming to PS4.
New trailer for Sci-fi space shooter Call of Duty: Infinity Warfare revealed. Coming to PS4 on 4th November 2016
New trailer Call of Duty: Modern Warfare Remastered revealed.
LEGO Star Wars: The Force Awakens coming in 2 weeks. Demo available now.
Kojima Production's new game Death Stranding revealed, staring Norman Reedus. Coming to the PS4, and still in development.
New Spiderman game shown-off, coming to PS4. Still in development.
PlayStation VR:
PlayStation VR launching in North America on 13th October 2016, with over 50 games expected before end of the year. RRP $399 USD.
Sci-fi game Farpoint trailer revealed.
Star Wars: Battlefront X-Wing VR Mission coming to PlayStation VR
Batman: Arkham VR coming exclusively to PlayStation VR in October 2016.
Final Fantasy XV with VR Experience coming 30th September 2016.