WB Games and Splash Damage have confirmed that Batman: Arkham Origins will be the first game in the Batman: Arkham series to feature a multiplayer mode. Called Invisible Predator Online, this new mode takes the concept of the earlier games' Challenge Rooms and puts other players into the role of the Joker and Bane's thugs.
Eight players take to the streets of Gotham in the game's multiplayer mode: three Joker thugs, three Bane thugs, and two heroes in the form of Batman and Robin. The thugs compete to wipe out the other team and capture control points in what plays out like a third-person, cover-based shooter. Meanwhile, the two heroes prowl the playfield in an attempt to intimidate enemies and provoke the gang leaders into calling the whole operation off.
In a fun twist, once the match has progressed a bit, the leader of your gang will radio in and demand entry into the arena. The first person on either team to reach the door they're waiting at will assume actual control of either the Joker or Bane depending on their allegiance that round. The gang leader is, as one would assume, vastly more powerful than the standard henchmen, and can often turn the tide in a seemingly one-sided battle.
Exclusive beta invites have already started to go out to gamers too. The beta is scheduled to take place between August 7th and August 14th 2013, and for the moment is invite only. If you have a Warner Bros ID, keep an eye on your inbox for an invite email.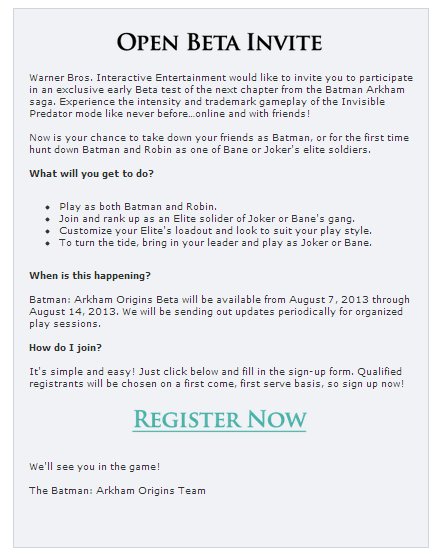 [Beta invite image from TheSixthAxis]