Irrational Games have released details of the Special Editions of Bioshock Infinite, scheduled to be released in March 2013. Two special editions of the game will be available: the Ultimate Songbird Edition and the Premium Edition, both of which are now available to pre-order.
The Premium Edition of the game includes a whole load of extras, including:
A 3-inch keychain of the sold-out Murder of Crows vigor bottle replica.
A 25 millimeter, resin-cast Handyman miniature from the upcoming BioShock Infinite board game.
A 5 x 7-inch lithograph by irrational Games' concept artist Jorge Lacera.
A mini art book of BioShock Infinite concept art and commentary, with a hand-distressed cover.
Exclusive in-game gear, a digital soundtrack, and platform specific downloadable content (i.e. Avatar costumes for Xbox 360 gamers, and special themes for PC and PlayStation 3 owners).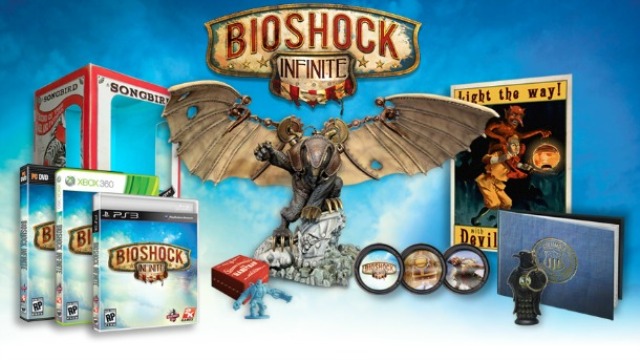 If you have a bit more cash lying around, you can get the Ultimate Songbird Edition, which comes with a 9.5″ collector's statue of a mechanical crow (shown above), while including all the extras that come with the Premium Edition of the game.