Sucker Punch Productions has finally unveiled the boxart to PlayStation 3 exclusive title inFamous 2. inFamous 2 continues the saga of Cole MacGrath as he takes a dramatic journey down the coast to the Southern city of New Marais, where he faces a new, darker entity, known as "The Beast."
Come launch, for you fans out there, you will be able to get hold of the inFamous 2 Special Edition which will have a stunning HD 3D lenticular cover. Check out the good and bad variants below:
In the Special Edition you will receive a voucher code to download the following exclusive items:
'Electrocution Grenade' limited edition power
'Original Cole' skin
'Golden Amp'
For you true inFamous fans out there, we are also producing a limited "Hero Edition" version which not only includes the Special Edition, but also a replica of Cole's sling bag, a Cole figurine, limited edition comic book, soundtrack and all of the pre-order/promo powers (phew)! Check it out below.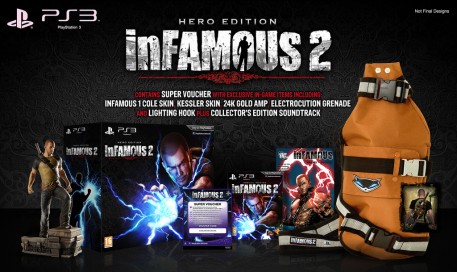 The Hero Edition will be limited it quantities and only available in certain PAL territories – so please check with your local retailer for availability.
Finally, if you haven't seen it already, check out the latest duality based inFamous 2 gameplay trailers below.