Being a PS3 owner just keeps getting better and better. In the last few weeks we've seen the additions of Hulu Plus in North America and LOVEFiLM in the UK. Now, another streaming service will be heading to the PS3 beginning next week. VUDU, the HD movie streaming service, will be available to all PS3 users in the United States that are registered to PSN, making it the only gaming console to offer the service.
With VUDU, we're adding another layer of great entertainment content to PlayStation Network and providing another choice for PS3 users to experience cinema-quality entertainment in the comfort of their living rooms. Access to VUDU doesn't require a subscription. Simply pay-as-you-go for the content you want.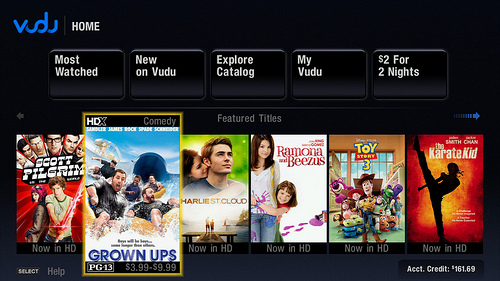 All of you with a free PlayStation Network account can get in on the VUDU action. Simply go to the PlayStation Store and download the VUDU app for free. Once you've downloaded the app, you'll see it appear in the XMB under the "Video" icon and from there, will have access to thousands of movie titles – available for instant viewing in HD and HDX 1080p formats with no buffering or downloading, and with Dolby Digital Plus 5.1 Surround Sound.