Heavy Rain Move Edition will be available for purchase in early October. However, if you already own the game, you will be able to download a free patch that will update your copy of the game to support the Move controllers. A demo of the game will be available to download from PlayStation Store on 15th September.
Heavy Rain Move Edition will be priced at €39.99 / £29.99 and will be released across PAL territories on the following dates:
UK, Ireland: 8th October 2010
Australia & New Zealand: 7th October 2010
Rest of PAL: 6th October 2010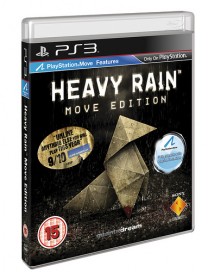 It will include the following bonus content on the disk:
The Taxidermist playable scene
3 x dynamic XMB themes for your PS3
Full game stereo soundtrack
Making Of videos: There are 9 Making Of videos totaling in around 45 minutes in length. They feature a behind the scenes insight into the game's development with interviews from the development team and the game's cast. If you're a Heavy Rain fan, they're not to be missed!
Heavy Rain has been given a PlayStation Move makeover so expect to be even more drawn into the action and for your every decision and every move to make a difference. And on 22nd September the Move Edition patch will be released and it will automatically download to your PS3 when you boot up Heavy Rain.