PlayStation Home is being updated today with lots of new content. The Ghostbusters Firehouse personal space, which we previously announced two weeks ago, will be releasing this week along with the Neptune Suite personal space. The Neptune Suite personal space is situated deep under water, and comes complete with the multiplayer Blast Zone mini-game, and the rather puzzling Scramble.
You'll find the Neptune Suite in the new "plus" section of Home Estates, which indicates personal spaces with additional functionality. You can also find a collection of things to wear on your head, such as horns and elfin ears. Check out the Furniture store this week too, as more Alien vs Predator content will be released. This week you can pick up three pictures that can be hung in your personal space, along with the amazing face hugger display unit. Remember: the Alien vs Predator content will only be purchasable for a limited time!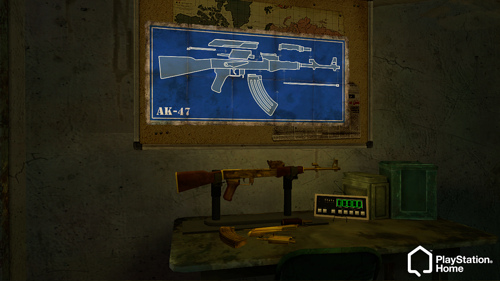 This week will also see the release of the SOCOM OPFOR game space. Here you'll be presented with a mini-game to assemble an assault weapon, with a special reward waiting for the most skilled players. Those who can successfully complete the assembly in under 12 seconds will receive an exclusive fully-playable Golden AK-47 for use in SOCOM: Confrontation. The space also features a highly addictive 5-Finger Fillet mini-game and leaderboards.
As for North America, the Monkey Island franchise enters the world of PlayStation Home. Gamers can head over to the PlayStation Home Mall pick up the Ghost Pirate Ship personal space (complete with rewards), the tons of associated furniture items (available in massive bundles at reduced prices), and the array of Monkey Island costumes (LeChuck, Elaine Marley, Stan the Salesman, and, of course, Mr. Fancy Pants himself).