The first PlayStation Home update for 2010 is imminent, and brings with it the great new London Pub personal space. Visit Home Estates today to get your own personal London Pub, and become a virtual pub landlord. Priced at €4.99, the London Pub offers a warm fire and comedy beer pumps – and more! – all in a setting on the Thames that overlooks the Houses of Parliament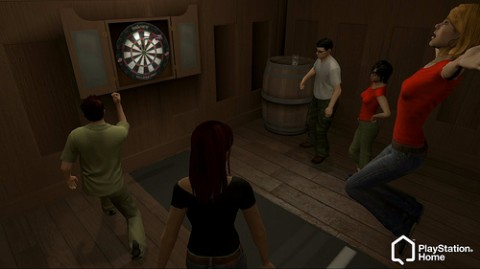 Gather your friends and challenge them to a few darts matches with the included multiplayer Darts game. Elsewhere in Home, there's a brand new "Be Stupid" shirt, in male and female varieties, available for FREE in the Diesel store.
Finally, if you missed any of Santa's tasks in the Winter Wonderland over the festive period, make sure to head back to the Wonderland one last time tonight. The elves will be packing everything and leaving Home tomorrow.