Heavy Rain, due for release in 2010, is getting a special edition box as well as downloadable content, dubbed the Heavy Rain Chronicles. These are a series of additional, fully-playable scenes, where you'll learn more about the backstory of some of the characters you'll meet in Heavy Rain itself. The first episode will centre on Madison. In addition, the Collector's Edition of Heavy Rain will feature a special 'rain-effect' slipcase, which "gives the impression of being streaked with 3D rain-drops."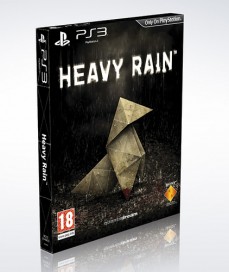 The Collector's Edition also contains a voucher to download the following additional content from the PlayStation Store:
Heavy Rain: Chronicle 1 – The Taxidermist – Experience Madison's dangerous investigation in full, before it's available on the PlayStation Store
The Heavy Rain Official Soundtrack – Recorded at the legendary Abbey Road studios, and filled with the powerful orchestral themes that form a key part of the experience of playing Heavy Rain
Dynamic XMB theme – Lend a little Heavy Rain ambience to your XMB
Heavy Rain Chronicles:
Heavy Rain: Chronicle One – The Taxidermist sees Madison Paige investigating a suspicious and reclusive taxidermist, and finding herself unexpectedly in grave danger.
Chronicles One and Two will be available for download from the PlayStation Store after the launch of Heavy Rain early next year – although there will be some opportunities to get hold of the episode a little earlier.