If you are still wondering on pre-ordering God of War 3, the announcement of the Ultimate Edition may sway your decision. Sony has revealed that the Ultimate Edition for GOW 3 will include a Sculpted Replica of Pandora's Box, the game, exclusive digital content and more (see below). You can start pre-ordering your copy from Gamestop, Game Crazy and Amazon. Early preorders will also receive a voucher code to download the E3 of GOW 3.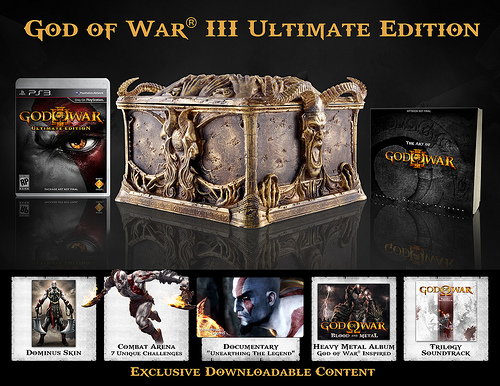 The GOW 3 Ultimate Edition contains:
A High-End Sculpted Replica of Pandora's Box, and a Limited-Edition God of War Art Book featuring exclusive art, content and interviews.
An exclusive Digital Content (Available via PlayStation Network voucher codes on day of launch):
God of War Combat Arena containing an exclusive environment and seven challenges
Premium Kratos Skin – Dominus
God of War: Unearthing the Legend Franchise Documentary – a full-length movie documentary depicting the history of the God of War franchise
God of War Trilogy Soundtrack – God of War, II, and III scores from the game (mp3 digital download).
God of War: Blood and Metal EP – a heavy metal homage featuring original music inspired by God of War (mp3 digital download).