The new Ratchet & Clank title, A Crack in Time, will be getting a collector's edition. The Collector's Edition will come in a special foldout digipack containing a 3D lenticular cover, an Artwork Book, and a PSN Voucher to download a exclusive level. The collector's edition will be exclusive to GAME in the UK, but will also be available across Europe (see below for details).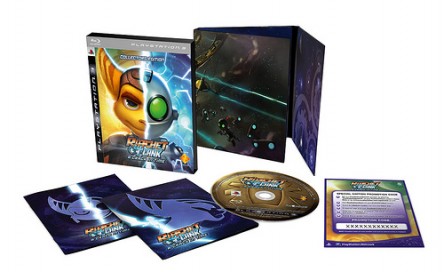 Contents of Collector's Edition:
A 3D lenticular cover – and this isn't like the dinosaur ruler you had at school, this features new 3D technology and looks awesome.
An Artwork Book with exclusive concept artwork handpicked by Insomniac.
A PSN Voucher, exclusive to the Collector's Edition in PAL regions. This allows you to download the stellar Discovery Package, which launches you over to the Insomniac Moon, a special level that resembles the layout of the Insomniac Games' offices! Scattered through this museum-like level, you will discover a moon's worth of extra content that didn't quite make it into the game.
Availablility:
UK – GAME exclusive
France – Available everywhere
Spain – Available everywhere
Italy – Available everywhere
Australia – TBC
New Zealand – EB Games
Belgium – Game Mania, Smartoys (CLD), PlayerOne (BEMS), Consoles Fan (Horelec), Multimedia Partner (MMS), IPG (gameshop), Supra Center, Media Markt, consoleshop.be
Holland – Bart Smit, Intertoys, Dexcom, Rigu, Bol.com, Consoleshop.nl, Toys XL
Norway – GameStop & Elkjøp
Sweden – GameStop & Siba, Media Markt, CDON, Webhallen, Nextstop, Discshop
Denmark – GameStop & Others TBC
Finland – Available everywhere