PlayStation Home will be getting a serious upgrade this fall. The main improvement will be Universal Game Launching, allowing you to launch into any game directly from within Home. Titles that fully support game launching (like Street Fighter IV, Resistance 2, MotorStorm, Far Cry 2 and Warhawk) will be identified by separate icons that appear over an avatar's head and will have varying degrees of additional multiplayer functionality built in. Simplified game launching will take you from Home to the start menu of your favorite games with ease.
Shop-a-holics will be stoked to see that an in-store item previewing option will be rolled out. This feature will allow you to preview items of clothing on your character in 3D (including the ability to check out multiple items simultaneously to see what combinations best suit your taste). You'll be able to preview all furniture in 3D as well, complete with zoom and rotate options so you can check your potential purchases from all angles, right down to the nitty gritty.
Sony will also be adding functionality to allow you to rent items or purchase 'consumable' (like the shrinking potion), which expire after some time. A new section on the Menu Pad under Personal > My Purchases to help you keep it all organized.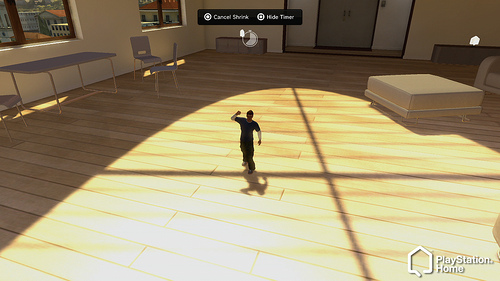 PlayStation Home v1.3 will also see additional portable objects (like the Bubble Machine) made available to the community. To start, we'll be giving everyone free cameras that you can use to snap pictures from either a 1st or 3rd person view. These photos will automatically be saved to the Photo section of the XMB, from which you can then upload to the picture frames you have hanging in your personal spaces. More portable objects will be released in the future, and rest assured that we will being you updates on any new additions.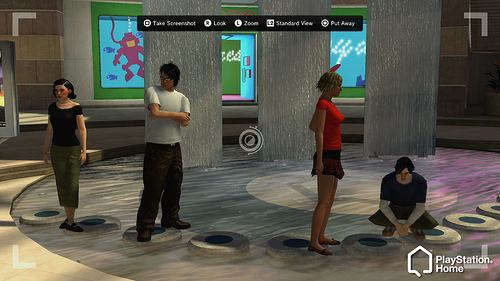 In other new features, your Home avatar will get new emotes – including two new action emotes (you can flip a coin with your friends or play the old "pick a number between 1 and 100" game). You will also be able to pose your avatar in a variety of ways (photo op anyone?). We've also added some new categories of clothing (composite and outfits) that will allow you to customize your avatar with greater ease. In addition, the targeting system has also been optimized, with a new queuing system and bug fixes. You also have the option to determine your cache size (you can choose from 3, 5, 8, and 12 GB) so as to make navigating Home a much smoother experience.
More information about the update will be released closer to the time, including a complete changelog.