The new Warhawk patch (v1.4) will be able to download in July 16th 2008 at 10:00 AM GMT according to Dylan Jobe. The new patch will come with two new game modes for every map (including the booster packs), and will be available for free. The two game modes are Hero and Collection (details below). The update also includes several improvements including "Quick Join", lower Rank and Reward restrictions, minimum rank hosting option, select respawn area, new "Winning Team" ribbon and more.
Hero:
This is a team-based game mode in which one member of each team is randomly selected to be their team's Epic Hero. Players score points for their team by killing the enemy Hero or by killing enemies while they're the Hero. The team that reaches the score limit first (or has the most points when time runs out) wins the game.

Really what it all boils down to is a huge battle between 2 armies that are being lead by 2 Epic Heroes!
While you're the Hero, you get some pretty incredible buffs…the mode's called Hero after all so you've gotta be tough!
You get crazy high damage resistance which is like having 500% health. All of your weapons do twice the damage. And the armor-piercing values for your weapons are increased so that some weapons that normally can't hurt vehicles like Tanks and Turrets, now can!
Now you aren't the Hero for the entire game. Once you are selected as the Hero, you have a limited amount of time to go on your berserker-blitz-rampage-of-carnage-awesomeness. See the shots above for the Hero meter in the upper left-hand corner. Also note the crazy visuals that are rendered when you're the Hero. You glow your team color, you emit light the same color as your team, you growl a scary sound that strikes fear in you're your foes, and of course, energy sparks…must….have…energy sparks!!!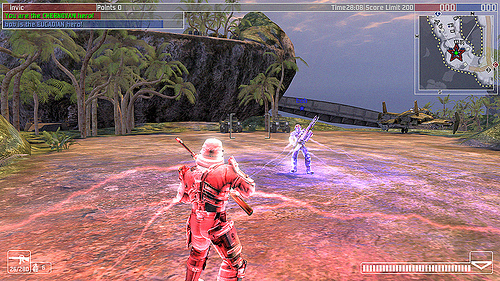 Scoring is simple: If a Hero kills a player, he scores 1 point for his team. If a normal player, or more commonly, a group of players, kills the Hero, 1 point is granted for the team. If a Hero kills the other enemy Hero, then 2 points are scored for the team.
Oh…but here's the downside for the Hero…everyone is gunning for you! If you die, then a new Hero on you team is given the chance for Epic Hero Greatness!!!
Did I mention that Heroes are always displayed on the mini-map!?!?…and with a star no less!
Simply stated…this mode is wicked intense!
Collection:
This new gameplay mode is like multi-flag CTF. There are 4 energy cores scattered around the map, generally positioned in the center or between the 2 team's main bases. Each team has a Reactor where Energy Cores are taken to score points.
In the screen shot above you can see 2 Energy Cores positioned on a Eucadian bridge. Bringing these Cores back to your team's reactor will score points for your team…and you can carry more than 1 Core at a time.

The scoring system is progressive, so if you score just 1 Core, your team gets just 1 point. 2 Cores will score 3 points. 3 Cores are good for 6 points…and if you manage to work as a team and bring all 4 Cores back to the Reactor at once, then your team scores a whopping 10 points!
As you can see in the screenshot below, the Cores are displayed on your character and the more you are carrying, the more you see whirling and orbiting around you. You'll also see them on the mini-map as pulsing energy symbols. The score is displayed in the upper right corner as usual, but there is a new display there for Collection mode. It's the little yellow number that shows you how many Cores your team currently is currently carrying. This ends up being critical for knowing where your focus should be; Offense or Defense.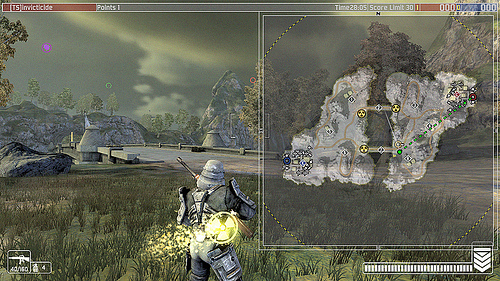 Collection mode is fun as &#@%! and really helps promote teamwork and yield some truly fantastic risk-vs-reward moments!…and you can press the TRIANGLE button to throw the Cores you are carrying! Passing Cores among your team is "super-effective" 🙂
So that's a quick run down of the new modes and we can't wait to have our player around the world start playing 2 completely new ways to enjoy the fast-paced world of Warhawk!