Dylan Jobe, Game Director of Warhawk, has announced the new, and free, update for Warhawk – the v1.3 Patch! The patch has five key additions that add a ton of value to the game. The additions include two new weapons, PlayStation Home Integration and other new options (see below). The two new weapons are the Mechanic's Field Wrench and Bio-Field Generator, information on both can be found below.
Key Additions:
Mechanic's field wrench
Bio-field generator
HOME game launching
New VOIP options
New paint schemes & insignias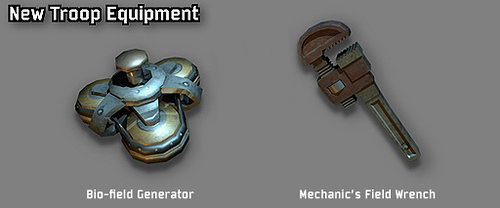 Mechanic's Field Wrench:
As you might expect, this piece of equipment is used to repair vehicles. Once you get the pickup, you swing it just like the combat blade. Then, just walk up to, or onto an allied vehicle and "whack" it with the wrench. It repairs wicked fast so it's very effectively during combat. On the offensive side, not only is it still a one-hit-kill against troops, but it can be used to damage enemy vehicles as well!
Bio-Field Generator:
To use a Bio-Field, grab the pick up and throw it down like a proximity mine. It sticks to walls, ceilings, anything…including vehicles. Then, if any ally stands within its bio-reactive field, his health will quickly regen. Alternatively, and this is where some neat tactics emerge, if an enemy walks into the bio-field (yes, bio-fields are color coded), they'll take damage.