Sony Computer Entertainment Europe (SCEE) has been sending out email messages informing people that the Europe PC-browsable PlayStation Network Store will be launching some time after Christmas. What's more, to celebrate its launch, Sony will be giving away a free downloadable game to every member of the PlayStation community – call it a late Christmas present!
The new PlayStation Store will replace the current PSP Store found on the European PlayStation Website, and will offer the same content as the PlayStation 3 Network Store including games, wallpapers, videos, trailers and more. This means that those who downloaded some content from the old site will have to store their downloads on their memory stick duo to avoid losing any of it.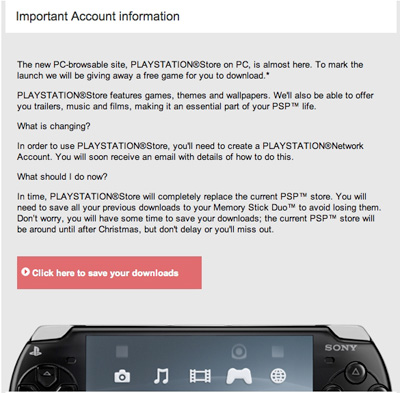 Access to the new store will only be given to those who have a PlayStation Network Account. Sony said that they would be sending out info to members of the existing PSP store with instructions on how to set up their accounts.