As we reported a few week back, Sony was planning to release a new starter pack in PAL territories. This move has now been confirmed according to several sources. However, Sony has mentioned that different regions will be getting different starter packs. On September 19th, France will be getting a new starter pack containing the PS3 console. Heavenly Sword, F1 and an extra controller.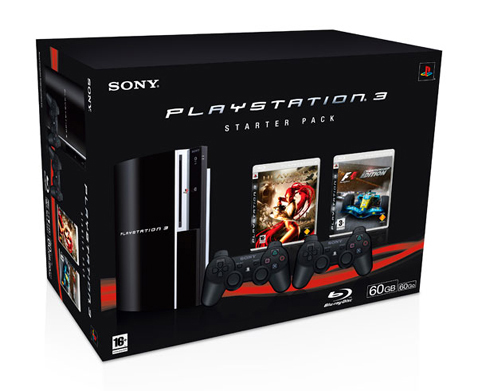 SCEE provided the following details about the new 60GB Starter Packs:
There will be an extra controller
All SCEE regions will start getting a new 60GB starter pack
Two bonus titles will be included in the package
Depending on the region, freedom to change the titles is up to the individual markets based on their unique conditions.
A statement by Sony reads:
"To remove any confusion, the Starter Pack, with an extra controller and two titles is a SCEE wide initiative and has been launched in all of our territories. The choice of which titles to include in the Starter Pack, and the freedom to change the titles is up to the individual markets based on their unique market conditions."