Life with PlayStation was updated today to version 1.2. The biggest addition to the application is support for video playback and photo slideshows.  Video playback will likely be the first change you encounter as the United Village channel now has videos available. The PlayStation Network Game Trailers Channel has been added to the application too.  This channel lets you view trailers for games on the PlayStation Store and read additional information about them.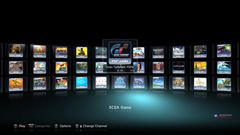 You will also be able to purchase the games directly from the Store without leaving Life with PlayStation. The channel also has an auto playback mode which the stream the trailers one after the other. However, this channel is currently only available in the US.
If you have not looked at Life with PlayStation for a while or maybe have never used it, here is a list of the channels available:
LIVE – provides dynamic content organized by city. The content provided includes news, live camera feeds, cloud data and weather.
Folding@Home – provides the protein-folding simulation in real time.
United Village – United Village is a project designed to provide an experience of sharing a sense of community and culture from locations around the world. The channel features a visual series of moments and aspects of life from various locations.
World Heritage by ? CLOCK – A showcase for Sony's ? DSLR cameras featuring photographs from World Heritage locations.
PSN Game Trailers – (US only) View video trailers for game content available on the PSN Store with links to purchase direct from Life with PlayStation.